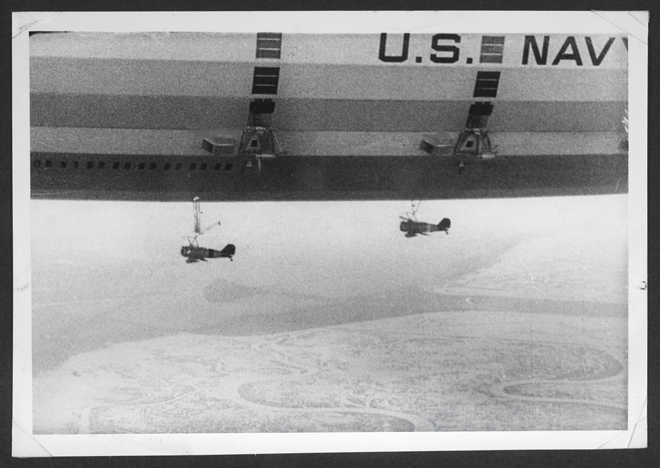 It was a very lonely feeling being outside the ship in an airplane with no place to go if you had any problems. I made it a point to get my guys on and always to be the last aboard. It was the last landing ever made on the airship, little did I know at that time.
In his oral history published by the Naval Institute in 1995, Rear Admiral Harold "Min" Miller looked back to 12 February 1935, when he was the senior aviator of the heavier-than-air unit flying trapeze-rigged F9C-2 Sparrowhawk biplanes taking off aloft and then hooking back on board the belly of the 785-foot, helium-filled Navy airship USS Macon (ZRS-5). A fleet exercise was under way in the Pacific off California, and while the Macon remained over the horizon, Miller's Sparrowhawks were flying forward scouting the enemy units.
Miller earlier had flown from the Macon's sister airship USS Akron (ZRS-4), and fate had it that he was not on board when she crashed in 1933, killing nearly the entire crew and Chief of the Bureau of Aeronautics Rear Admiral William Moffett.