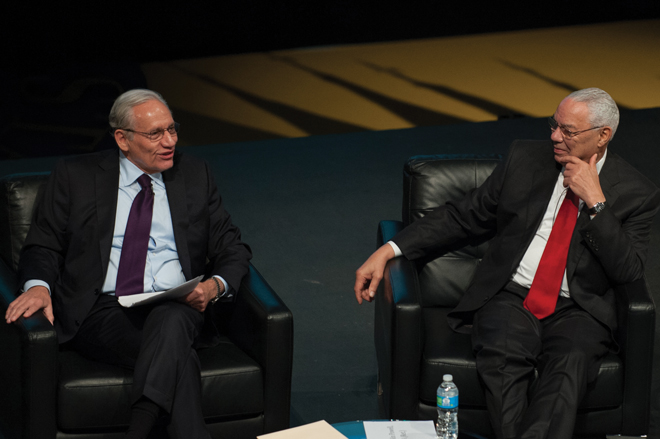 Naval Institue Made Great Progess in 2017 
As 2017 draws to a close, I want to highlight some of the important progress the Institute has made on our Strategic Plan. These achievements have been made possible through hard work of our team—Board of Directors, Foundation Trustees, Editorial Board, and professional staff—all of whom are dedicated to making our strategic objectives a reality. We have seen the following goals met:
• We increased active-duty engagement in many ways. We brought back the Marine Corps Essay Contest. Our 14 essay contests brought in more than 900 submissions, almost 75 percent of which were from active-duty serving naval professionals. We are averaging approximately 60 percent active-duty authors published in Proceedings.
• We continue to strengthen our conference content and speakers. Just one example is October's conference on the military and politics. It featured General Colin Powell, Admiral Mike Mullen, Admiral Gary Roughead, Vice Admiral Bob Harward, Senator John McCain, Bob Woodward, and Dr. Richard Kohn, Professor Emeritus of History and Peace, War, and Defense at UNC, Chapel Hill, among other distinguished participants. Conference attendance was up by almost 25 percent.
• Technology is key in our plan, and we continue our relentless march toward a state-of-the-art digital enterprise. Having digitized Proceedings, Naval History, and our Oral Histories, we are now a third of the way toward our goal of scanning our most important images and loading them into our Digital Asset Management System. We have just completed the transition of all our content and enterprise software to a hybrid cloud solution. Our intellectual property is both more secure and more accessible!

• A key goal in our Strategic Plan is to develop an online persona for Proceedings to provide timely, Proceedings-quality content to address issues in real time. We launched Proceedings Today in May and haven't looked back. At the same time, our Naval Institute Blog is resurgent.
• USNI News continues to gain readers and is averaging one million unique visits per month. It increasingly is cited as a source by national newspapers, radio, and TV outlets. USNI News is all about accurate news reporting and true journalism—publishing without opinion and commentary. Overall, the media reach of the Institute increased more than 40 percent compared to 2016.
• We stood up a Naval History Advisory Board composed of distinguished naval historians to help guide our efforts to bring along new historians and attract the best in the field to publish in the Naval Institute Press and Naval History magazine. The Board already is helping us deliver on our strategic goal to "keep alive the lessons of naval history to benefit current and future generations."
• We continue to build membership with a laser focus on active-duty professionals and efforts to introduce students to our forum and our content. More than 10,000 students from the service academies, NROTC units, and other service schools are enrolled as student members. Your member sponsorships and donations help make this possible.
• The Naval Institute Press has launched an effort to refresh professional books. We recently updated The Bluejacket's Manual (25th edition), The Coast Guardsman's Manual (11th edition), The Division Officer's Guide (12th edition), and The Marine Officer's Guide (8th edition). We also launched the first edition of The Parent's Guide to the U.S. Navy.
• We initiated our Memoir Collection to archive and make available the memoirs of all who serve. This complements our formal Oral History Program, which provides in-depth interviews of critical players who have played important roles in the naval profession. We are under way with interviews and editing of more than 15 major oral histories. Future generations of naval professionals, researchers, authors, and family members will be able to use these valuable primary-source histories and memoirs.
Special Request For Member Support
Your contributions provide us the seed money for new offerings and allow us to deliver programs and products that meet our mission. I ask each member to consider making a 2017 gift in an amount that's right for you. Please watch for my yearend letter. Every dollar donated to the Institute goes to our mission's work and truly does make a difference!
Peter H. Daly VADM, USN (Ret.), 
Life Member and Member since 1978