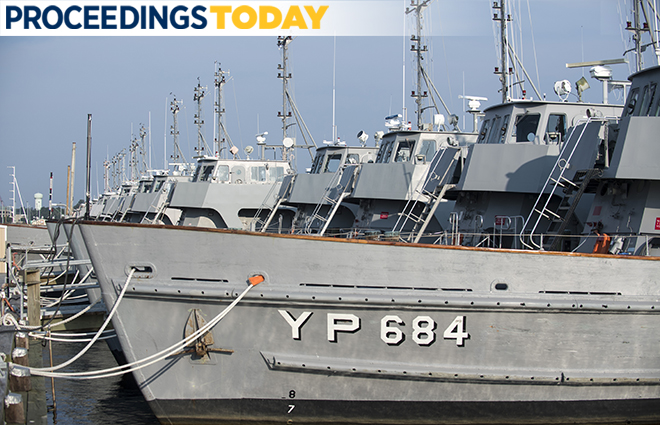 The surface warfare community, has—in the past few generations of ship drivers, maintainers, and warfighters—seen a great deal of money-saving corrections or efficiencies sold as trade-offs to get more time at sea for the Navy's ships. Unfortunately, particularly for surface warfare officers (SWOs), unintended consequences come at the expense of our seagoing culture.
On 20 September, the SWO Boss, Vice Admiral Thomas Rowden, Commander, Naval Surface Forces/Commander, Naval Surface Force, U.S. Pacific Fleet, released his Warfighting Serial #13, "Confidence and Competence," with a list of first-aid measures for our community after the recent collisions involving the USS Fitzgerald (DDG-62) and USS John S. McCain (DDG-56). "Confidence and Competence" points at many of the symptoms but does not address the cultural issue.
In November, Admiral Phil Davidson, Commander, U.S. Fleet Forces, released his "Comprehensive Review of Recent Surface Force Incidents." This review provides insights, directions, and recommendations on how to fix the core of the problem.
The following approach is one way to tackle this cultural issue and bring wholeness back to my community.
A SWO starts in the Navy at the time he or she picks the surface warfare community in the various commissioning source—the U.S. Naval Academy (USNA), Naval Reserve Officers Training Corps (NROTC), or Officer Candidate School (OCS). With the exception of the Naval Academy, time under way and introduction to the art of seamanship is brief. For NROTC midshipmen, it is relegated to a three-four week summer training. At OCS, future officers receive only a cursory introduction to navigation. On the other hand, the Naval Academy exposes midshipmen to yard patrol (YP) craft for exercises, underway cruisers, and familiarization throughout the academic years and over the summers. While this privilege is part of the Naval Academy experience, it is a poor return on investment (ROI) for the YPs.
In 2016 and 2017, respectively, the Naval Academy graduated 249 and 244 future ship drivers from a class of 1,000+ mids—i.e., just a 20–25 percent ROI for the 24 YP hulls currently resident in Annapolis. (The Naval Academy plans to reduce the total to 18 in the near future.) I propose the Navy spread the wealth as mentioned in the "Comprehensive Review." Ten hulls should be reassigned to the fleet, namely, the fleet concentration areas (FCAs) where newly commissioned officers are meeting their ships. Here is one cut on making those assignments of ten YPs:
2 – Norfolk                                         1 – Pearl Harbor
2 – San Diego                                     1 – Yokosuka
1 – Mayport                                        1 – Sasebo
1 – Everett                                         1 – Rota
This would put these training platforms in the hands of those who need them. It also would address a few other recommendations from the "Comprehensive Review":
►   4.3.1.7: Evaluate use of Yard Patrol craft in all officer accession programs.
The Chief of Naval Operations, Admiral John Richardson and Admiral Davidson, both USNA Class of '82, know about—and experienced—the YPs' training benefit. NROTC midshipmen get up to a month on a ship during their summers. OCS officer candidates receive little-to-no exposure on board a ship.
►   4.3.2.4: Establish policy to define, maintain, and reestablish SWO currency (e.g., a Bridge log).
Time under way on a YP can count for "professional hours" in an officer's home port.
►   8.3.4.2: Establish Commanding Officer mentors in surface ship homeports.
While directed at sitting COs, this can be taken further to help groom future COs on the waterfront—i.e., the department heads and division officers. Too many times, "mentorship" is given to those with command pins while those who do the driving for normal operations or anticipated tactical employment are working only with peers and case studies to glean experience.
There are many other benefits of getting away from a pier and pulling back in, unassisted, for the surface navy:
·      Rising department heads working on their command qualifications can practice and gain true confidence in taking control of a ship in their homeport.
·      In addition to the supervision opportunity for the department head on board a craft, the junior officers (first or second tours afloat and even FCA shore-duty SWOs) can keep up their proficiencies while truly learning how sea-and-anchor details can teach one how to use pilots and tugs.
·      Simulators are cool, but they are no match when it comes to actual relative motion determination with the Mk1 Mod0 eyeball, actual currents and wind moving you, and one of the sweetest callings of the sea, the smell of the salty air.
·      A bumpy landing at the pier and some hands-on line-handling commands (and putting turns on a bitt) can show a shiphandler what those forces are alongside a berth.
The flotilla of YPs remaining at the Naval Academy also could contribute to the fleet. Prospective executive officers (PXOs) could swing through Annapolis for a week before their final post Senior Officer Ship Material and Readiness Course (SOSMRC) shipride on their way to take over as XOs. Think of this as that last gut check of "Take in All Lines." The same could go for department heads en route to their ships, Advanced Division Officer Course (ADOC) graduates, and prospective COs for multiship maneuvers in division tactics.
All things in the Navy, especially when it comes to ships, come at a cost in manning, maintenance, and time. The mind-set instead needs to be on what opportunities are created. For manning, each YP would have a dedicated and permanently assigned "craftmaster," typically a seasoned boatswain mate chief (BMC), and a mid-to-senior petty officer engineer. This could be further augmented by temporary additional duty (TAD) sailors with journeymen quartermasters and rising navigation plotting operations specialists to fill out the enlisted support from the waterfront. In addition, this would create a solid, post-division officer tour for those navigators rolling to shore duty to serve as training craft detachment officers in charge (OIC) and keep talent sharp while fulfilling the SWO clock requirements. Since afloat training groups are the "eyes and ears of the type commander," their resident BMCs and QMCs can assist in watching/growing these junior officers. These detachments would be able to perform just as the aviation model has done for years, as a home squadron. For example, a YP squadron at the Naval Academy with a minimal staff footprint to coordinate parts and repairs of the detachments could be as few as two post-department head billets.
Lieutenant Commander Andrews is a surface warfare officer. His experience includes two deployments on guided-missile destroyers (DDGs) as a first lieutenant and a damage control assistant. He also served a tour in Iraq and as training scheduler at an afloat training group. For department head, he deployed on another DDG as the operations officer, then served as a first lieutenant/coach on a multipurpose amphibious assault ship. He currently is serving in a staff position at Naval Forces Central Command in Bahrain.
Editor's Note: This is a two part feature. Read Part Two here.