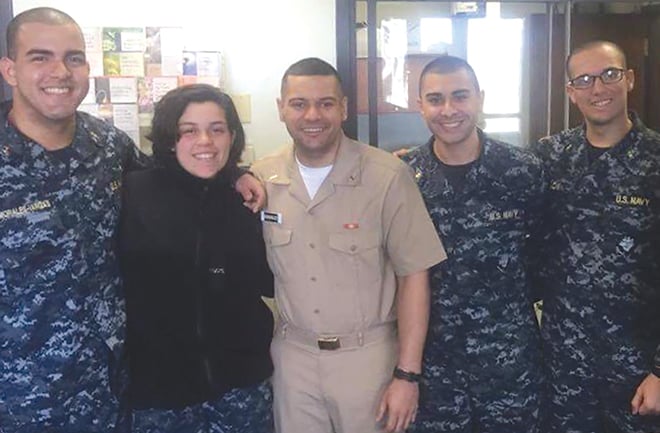 Navy officer recruiters have a special vocation: not only are they entrusted to find the best and brightest to serve in the Navy, they are entrusted with finding those who can lead the Navy. The responsibility, however, does not end there. It extends to helping prepare officer candidates for their service and promoting their growth as leaders. Officer candidates' relationships with their recruiters will impact their early career decisions and may well affect their eventual decisions to continue serving.
The officer-recruiting force has proven capable of preparing candidates for Officer Candidate School (OCS) through established policy and procedures for managing and tracking officer candidates as they prepare to go to OCS. There is room for improvement, though, in preparing officer candidates for what comes after they arrive in the fleet.
Officers commissioned through the U.S. Naval Academy or Naval Reserve Officer Training Corps (NROTC) have the advantage of learning from experienced officers during four-year programs with intense summer training. The knowledge delta between junior officers commissioned through those programs and OCS is visible in the fleet. While the delta diminishes with time and experience, it also creates challenges. The officer-recruiting force is well positioned to expand its influence and help close this gap. By the nature of their job, recruiters are career counselors, knowledgeable in how to prepare OCS-commissioned officers to make the right moves early in their careers. Leaving this duty to young officers' first commands and other people later in their careers misses an opportunity and prejudices the success of recruits. If it takes an OCS officer several years to find mentors or to understand their career pipeline, they may make poor early decisions and have to play catch-up later.
Officer recruiters can help officer candidates jump-start their careers by recommending the following to their recruits:
• Begin building your professional library. Recruiters should proudly display their own professional libraries, showing recruits that they are joining a profession that requires diligence and continuing education to ensure success. Learning about the history, processes, and capabilities of the Navy is important to one's own career and to the development of subordinates once a junior officer arrives in the fleet. The CNO's reading list is a good start for a professional library. Perennial Naval Institute Press titles such as The Bluejacket's Manual, The Naval Officer's Guide, Combat Fleets of the World, and Dutton's Nautical Navigation are also foundational. Proceedings, Joint Forces Quarterly, and other community-specific magazines will help keep any junior officer up-to-date. Officer recruiters also can provide candidates with links to specific important articles.
• Join professional naval organizations. There are three levels of organizations to consider.
The U.S. Naval Institute (www.usni.org) is the professional organization of the Sea Services and publishes the monthly Proceedings magazine, the open forum for the naval profession. The Naval Institute has a special student membership rate that applies to OCS candidates. Joining this organization gives officer candidates access to professionally stimulating books and Proceedings magazine and shows them that professional dialogue is encouraged in the Navy.
The second level of organizations is community centric. Surface warfare officers have the Surface Navy Association (www.navysna.org); naval aviators have the Tailhook Association (www.tailhook.net) and the Navy Helicopter Association (www.navalhelicopterassn.org); submariners have the Naval Submarine League (www.navalsubleague.com); engineering duty officers have the American Society of Naval Engineers (www.navalengineers.org); and information warfare officers have the Naval Intelligence Professionals (www.navintpro.org). These organizations provide community-specific information and networking opportunities to develop mentors and understanding of community-specific issues and concerns.
The third level consists of affinity groups for women and minorities. Women can benefit from joining the Sea Service Leadership Association (www.sealeader.org); African-Americans can look to the National Naval Officers' Association (www.nnoa.org) as a great resource; Asian-Pacific Islanders have the Naval Officer Mentorship Association (navalofficermentorship.org); and Hispanics are encouraged to consider the Association of Naval Service Officers (www.ansomil.org).
• Coordinate a mentorship video conference or meeting with one or two mid-grade officers in their community to establish their first professional relationships within the service. This is relatively easy for prospective surface warfare officers because the Navy Recruiting Districts (NRDs) tend to have many of them as recruiters. For other communities, it may be more challenging. The membership directory of some of the organizations listed previously could help. NRDs could develop local lists of officers willing to support this initiative. A list of willing mentors would be a powerful resource for each recruiting district.
Navy officer recruiters are uniquely positioned to help launch the successful careers of officer candidates. The junior officers themselves—as well as the Navy's sailors and chiefs—will benefit tremendously from speeding up the onboarding process. By embracing the role of first mentors, officer recruiters not only will find the right talent, but they will give the Navy an edge in developing and retaining exceptional young officers.
Lieutenant Machado is a surface warfare officer currently assigned as the chief engineer on board the USS Curtis Wilbur (DDG-54). His previous assignment was as officer-in-charge and officer recruiter for Navy Recruiting District Miami, Division 7 (Puerto Rico and U.S. Virgin Islands). He is a 2009 graduate of the U.S. Naval Academy.