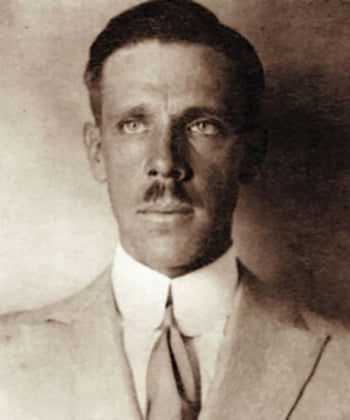 The Navy's information and intelligence needs demand diverse approaches, with a focus on understanding potential adversaries and operating environments. In recent decades, however, the Navy has become increasingly reliant on signals and imagery collection at the expense of human intelligence (HUMINT) as it grew weary of perceived risk and dependent upon the collection of other intelligence agencies. But are the potential gains of HUMINT worth the risks? History has taught us that foreknowledge of a potential adversary's plans, intentions, and capabilities are essential.
During World War I, the United States had a persistent need for information and insight that only HUMINT could provide. As the potential for U.S. involvement grew, Germany's intentions and alliances in Latin America were of great concern. Planners were concerned that the Germans were working to establish a permanent presence in the Western Hemisphere to threaten shipping, troop deployments to Europe, and the U.S. southern flank. German U-boats had appeared off U.S. ports in a demonstration of range and threat. The United States needed information on German plans, and it needed this information collected with the utmost discretion and confidence.
Sylvanus Morley was a well-respected Mayan archaeologist who offered his services and his network of sources to the Office of Naval Intelligence in the early days of the conflict.1 Morley was able to use his cover and connections as an active research archaeologist to move freely about Latin America, surveying potential U-boat bases and the receptiveness of regional governments to a possible German presence, eventually proving that Germany had made no progress in its attempt to establish a presence.
During the Cold War, HUMINT networks proved invaluable in acquiring examples of emerging Soviet technologies as they related to strategic and tactical capabilities. What were the homing mechanisms of Soviet torpedoes? What were their systems' vulnerabilities? Second-hand and derivative technical intelligence paled in comparison to information obtained through clandestine acquisition of Soviet weapon systems.
Today, Naval Special Warfare (NSW) and the larger Special Operations Command (SOC) have become increasingly reliant on the network penetration, target identification and tracking, and operational preparation of the battlefield conducted or enabled by Navy HUMINT. In the special operations world, the relationship between operations and intelligence is tightly integrated, with SOC and NSW operators demanding the highest level of data fidelity and timeliness.
The Navy's ability to stay ahead of potential adversaries relies upon predictive intelligence about plans, intentions, motivations, and weapon systems development. Garnering such intelligence is dependent on penetration of adversary networks and access to decision makers' communications. This often means collection before technical means (signals intelligence, cyber, etc.) are viable, or against adversaries who use increasingly sophisticated technical collection countermeasures and strong operational security. HUMINT is sometimes the only way to circumvent technical security or acquire information early in the timeline of weapon systems development.
Though source and network development can take considerable time, HUMINT remains a key way to achieve deep penetration of the enemy, providing insights other disciplines do not possess. HUMINT collectors are agile, flexible, and able to support the full range of military operations from humanitarian assistance and disaster relief to major combat operations. For example, geospatial intelligence (commonly known as imagery intelligence) may be able to look at the outside of a missile factory; and signals intelligence might eavesdrop on a conversation between two employees; but a HUMINT source can be asked what really goes on inside the facility, what morale is like, what they tell the outside world, and what the factory will produce next month. Whereas most technical approaches to collection are passive, HUMINT is active, providing more direct and nuanced approaches to closing key intelligence gaps.
The Navy today remains reliant on national and defense partners to service most of its HUMINT requirements. Being a part of intelligence community efforts is productive, but the Navy must develop a robust HUMINT program capable of meeting its own needs.
The Navy is making important changes to its HUMINT investment that began with the formation of the Defense Clandestine Service (DCS) and the return of Navy service-level capability to the management of the Director of Naval Intelligence. As part of the Defense HUMINT enterprise, the Navy has agreed to increase its contribution to this force, while diversifying its investment through a stronger service-level capability.
The investment in HUMINT should have the breadth and depth to satisfy Navy collection requirements as well as fulfilling joint requirements to the DCS. HUMINT may be gathered through three categories of collection—1) clandestine sources who are tasked by trained and certified collectors who employ tradecraft to minimize risk; 2) overt strategic debriefings of cooperative sources, and 3) focused tactical collectors embedded within operational units. The Navy must invest in all three.
Overt HUMINT programs can be a cost-effective and low-risk means to obtain baseline data that provides context to other intelligence disciplines. Clandestine HUMINT programs, by contrast, entail risk, but also can provide unique insights not obtainable by other means. Naval intelligence personnel must demonstrate competence and experience as trusted partners with national and defense HUMINT programs.
The Navy's HUMINT program manages the careers and professional development of a dedicated cadre of enlisted, officer, and civilian collectors and support personnel, taking important steps to address significant shortfalls. In the past, Navy collectors often were allowed only one HUMINT-focused tour in a career. This created a force of continual novices with little opportunity to refine nuanced skill sets or to mentor the future force. Defined career paths, closely watched milestones and billet management, and promotion of qualified officers will strengthen the future force while addressing personnel and security risks within a controlled HUMINT program. For personnel assigned to these programs, career options include development and utilization with defense and intelligence community partners and Navy service-level assignments within NSW, geographic combatant commands, and numbered fleets.
HUMINT collection contributes to the Navy's efforts to maintain its technological advantage in key warfighting areas. Awareness of emerging adversarial capabilities and procurement programs can facilitate changes to Navy acquisitions that determine mission success and cost containment. For example, defensive countermeasures are often dependent on details such as radar cross sections and electronic signals acquisition. Early collection of these types of information can contribute significant cost savings and ensure the successful development and employment of defensive countermeasures.
With a globally distributed force ready to meet challenges wherever they may occur, Navy tactical HUMINT collectors participate in ship boardings, interrogations, and strategic debriefings wherever Navy units deploy.
HUMINT also can be more cost effective than other collection means in the returns the service gets from trained and certified collectors. While technical means often cost billions of dollars with long periods of research, development, testing, and evaluation, HUMINT collectors are relatively cost-efficient and may be deployed immediately following initial training and certification.
The Navy understands the necessity of diverse approaches to intelligence collection and the risks attendant to over reliance on one means of collection. To mitigate this risk, the Navy must diversify its approach and include HUMINT. Managing the Navy's capability, access, and exposure to risk requires active participation in the HUMINT community, a focused investment in service-specific capabilities, and extensive collaboration with defense and national-level partners.
---

1. Charles H. Harris III and Louis R. Sadler, The Archaeologist Was a Spy: Sylvanus G. Morley and the Office of Naval Intelligence (Albuquerque, NM: University of New Mexico Press, 2003).
Ms. Wright
is the Deputy Director of Naval Intelligence and the Director of the Naval Intelligence Activity.
Mr. Assur serves as the Navy's Senior Advisor for Human Intelligence, directing HUMINT, counterintelligence, and naval attaché programs.
Mr. McKernan is a collection management officer within the Naval Intelligence Activity with extensive experience in both analysis and intelligence operations for the Department of Defense and the greater U.S. intelligence community.