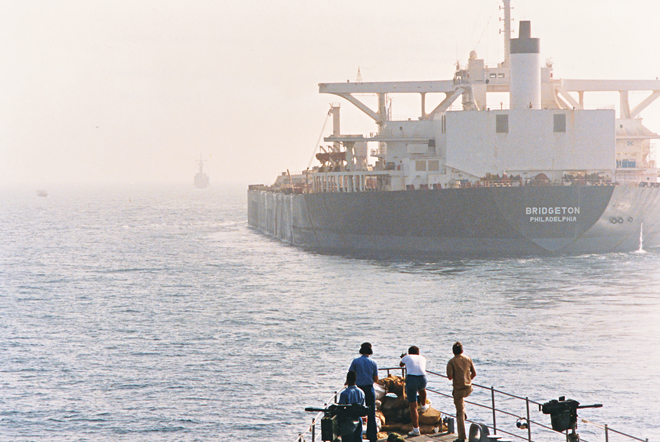 From Italian posts in Syracusian harbors in 415 B.C. to modern Italian smart-mines, mine warfare is naval history's most painful defensive mission. When not ignored, it is traditionally over-thought. Thucydides wrote of an Athenian "ship of ten thousand talents burden furnished with wooden turrets and screens." The U.S. Navy built the remote mine-hunting system (RMS), a drone program costing more than $700 million. Both were brilliant failures. There is middle ground between abandonment and overthinking. The key to defensive mine warfare is not fighting smarter; it's fighting dumber.
In 1969, the Harry L. Glucksman (MSS-1) embraced the "dumber, not smarter" approach. April 1971's All Hands magazine described how the former World War II Liberty ship was filled with Styrofoam, fitted with outboard motors, magnetic coils, and a shock resistant pilothouse. The Harry L. Glucksman was not a mine hunter. She was a mine sweeper/hitter similar to the Sperrbrecher "mine breakers" of World Wars I and II. Despite promising shock tests, the project was abandoned. In 1987, the Navy was forced to involuntarily prove the operational concept during Operation Earnest Will. During that first convoy for Kuwaiti oil tankers, the civilian Bridgeton struck a mine. Surprised and unprepared for mines, the convoy's warships gathered behind the M/V Bridgeton. Defended became defender as the unmodified, mine-struck commercial tanker proved effective at shielding her military escorts for the remaining transit.
We should embrace Bridgeton-style defensive mine warfare. New ship prices are dropping. Used vessels are widely available. In a 19 March 2014 gCaptain article, Mike Schuler noted that Bridgeton-size used vessels range $25-$35 million in price. The failed RMS's total budget would purchase a fleet of Styrofoam-filled mine-hitters fitted with additional watertight framing and magnetic influence coils. That brute force clearance could improve with simple towed equipment. In addition, commercial fuel systems allow ballasting for different environments and mine types.
A Bridgeton force could be automated, for sweeping preprogrammed routes. Though crew risk on Bridgeton-size vessels is already small, automation would enable the removal of human safety systems to produced cheaper unmanned auxiliaries. The Office of Naval Research employs a module transforming any group of rigid inflatable boats into networked autonomous vehicle swarms. That system could be deployed as the hub for rudimentary control systems on board aging hulks. The U.S. Navy's "Ghost Fleet" is full of reserve ships that would cost millions to resurrect to full capability, but perhaps only thousands to automate, fill with Styrofoam, and send on one-way missions through suspected minefields.
The "dumber, not smarter" approach out-dumbs the newest generation of smart mines. Advanced mines target specific warships and submarine classes while ignoring low-priority platforms and the seaborne trade needed by adversaries like China. A Bridgeton-style minesweeper would be immune, having an insufficiently precise or commercial-like signature. It might seem like this signature immunity leaves a critical gap in a Bridgeton ship's hitting/sweeping abilities. Advanced mines will be left by the rugged-but-simple magnetic and acoustic mine-hitting operations. Given a Bridgeton-style immunity to smart mines, however, it could also provide an afloat forward staging base for mine-hunting equipment and littoral combat ships without risking other valuable seagoing command-and-control assets.
As a mine-hunting operations base, a Bridgeton-class vessel would be less costly, more survivable, immune to the cleverest mines, and provide space to air-lift and operate mine-hunting personnel and equipment. It would allow for logistically convenient placement of explosive ordnance disposal, helicopter fuel, replacement gear, and other necessary support gear to operate in the middle of the minefield without risk to collateral capabilities.
A Bridgeton-class vessel designed to hit and sweep mines would excel as an offensive lineman in any denied maritime environment, paving the way for follow-on forces. This is one example of how the Navy finally could deliver a cost-effective mine warfare solution if it would just underthink and overdeliver.
Lieutenant Hipple is a surface warfare officer and a prospective department head. He is a frequent contributor to Proceedings.