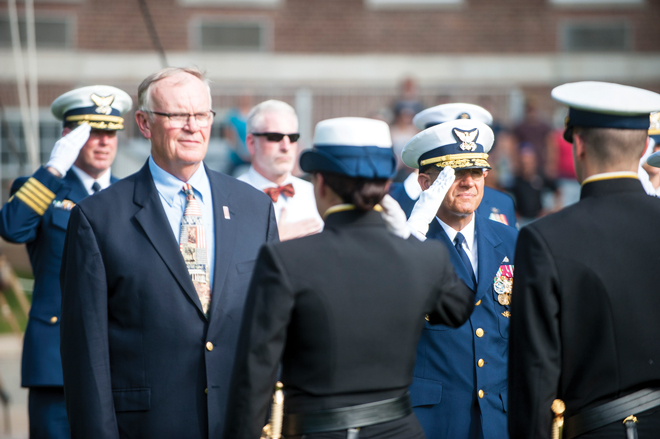 Leadership and character cut across the individual and organizational levels of management and learning. Dr. Ira Martin, Leader in Residence at the Coast Guard Academy's Institute for Leadership (IFL), interviewed former Coast Guard Commandant Admiral James Loy for his insights on leadership development based on his lengthy tenure as the Dr. James S. Tyler Distinguished Chair in Leadership at IFL.
Martin: There are various definitions of leadership. How do you define it?
Loy: The end game must be a simple and understandable construct. For any leadership application, you examine and rate performance. Did the mission get accomplished? If so, how? Simply put, preparation equals performance.
In 2008, my good friend Don Phillips and I wrote about our synthesis of experiences, competencies, and lessons learned from our two lifetimes of focus on leader development. Our book, entitled The Architecture of Leadership (Naval Institute Press, 2013), is this fully developed framework captured by its subtitle, Preparation Equals Performance.
General Dwight Eisenhower's simple but powerful notion was that those who worked hard to increase their competencies in those acquired skills, when then provided opportunities, would perform up to the full potential of their native ability. That message has been very powerful for me. So, I tell my audiences to find or build a simple and understandable framework that works for them. I challenge them that it's their personal responsibility, even obligation, to internalize that framework, to recognize it as being dynamic (i.e., improvable over time), as the commitment to lifelong learning and their growth as a leader plays out. Finally, I challenge audiences to understand that this construct works every bit as well for teams or even an organization as it does for an individual.
Martin: How do you see leadership in the Coast Guard community as similar or different from civilian leadership?
Loy: I have found good leadership to be fully agnostic as to the environs in which it happens. I have been blessed to work for outstanding leaders in the military, civilian government, and private sector. When all is said and done, a good leader is a good leader when he or she leads, regardless of the setting.
Martin: What do you believe to be the current state of leadership development across organizational domains?
Loy: I believe leadership development varies wildly from setting to setting and from domain to domain. Part of the variance is the lack of any accepted standards in the discipline. You can visit any bookstore and find hundreds of titles all professing to be the answer. I believe the organization that invests in leader development will reap a return on that investment in moments critical to the life of that organization. Those who do not make such an investment, will, during these moments, be "rolling the dice" and hoping.
At our Institute for Leadership, we work hard to engage ownership in our work from faculty, professional military officers, and athletic coaches alike. All who encounter cadets have an opportunity to influence their learning. Such small pockets of good leadership performance do not need huge structures or great strategic intent to be impactful. Four years of encountering hundreds of such experiences allows every cadet to experience, reflect, and grow. We want the result to add up to each graduate being a leader of character when he or she walks across the graduation stage.
Martin: How does the Institute for Leadership fit in the structure of the Academy, and of the larger Coast Guard?
Loy: The Coast Guard Academy has been producing good leaders for a very long time. Any observer of the Coast Guard's extraordinary organizational performance in times of tragedies has a sense of asking why, during such events as September 11th in New York Harbor or in the ten days following Hurricane Katrina landfall in 2005, Coast Guard personnel step up and excel when many around them fail. Think about moving 500,000 desperate citizens from Manhattan to safety across New York Harbor or successfully ramping up to conduct six years' worth of search-and-rescue operations in ten days during Katrina.
Leadership culture that honors devotion to duty, one of the Coast Guard's core values, caused such performance. It happened at the senior command level, at the team direction level, and at the level of individual sailors adapting to the crisis at hand and inspiring others to do the same. Many of these leaders were Academy graduates, and many graduated long before there was an Institute for Leadership.
My focus on taking the responsibility inherent with the Tyler Distinguished Chair of Leadership at the IFL was to understand the hows and whys of that leader production effort, and bring it to the front burner. With the added goal of building national prominence for the Coast Guard Academy (as an institution known for its generation of leaders of character), we built a structured and intentional program, identifying the key programs already in place and organizing old and new emphasis elements together to create a foundation that is theoretical, experiential, reflective, and developmental across all domains at the Academy.
A key part of this design was an effort to ensure early recognition by the students of the lifelong value of what they were learning. Many graduates had opined that they did not adequately appreciate the depth of their Academy development as a leader until years after commissioning. We defined that point as the "epiphany" and focused on every opportunity to move that awakening back into cadet years to fully optimize the opportunity while immersed in the process. The resultant leadership programs stand, as the goal and process set owned by all Academy faculty and staff as organized into their active courses and programs augmented by leader development counsel by the IFL.
Of equal importance are the defined competencies at the point of graduation. Thirteen of the 28 competencies of the Coast Guard's formal leadership program are gathered under the headings of "leading self" and "leading others." It is competency in these 13 that comprise a graduation requirement for each cadet. This natural link makes lifelong learning a very natural extension from developmental time as a cadet at the Academy to further developmental time as an officer, where this balance of the competencies is gained through our strategic program of continuous learning, experience, reflection, and mentoring.
Finally, there always has been a sense that if we did this we could offer both the context and process to a wider audience—the full Academy staff, the active Coast Guard, the Department of Homeland Security, and to commercial agencies interested in providing such development to their workforce.
Martin: You have seen the Coast Guard Academy's progression as an institution that develops leaders of character for many decades in your various roles as cadet, instructor, commandant, and as the Tyler Chair in Leadership. Would you discuss the Academy's mission of developing "leaders of character" and what that means for the Coast Guard?
Loy: Semper Paratus, "always ready," is the Coast Guard motto. It is the light at the end of the tunnel. If the Coast Guard is to serve the United States well, it must be always ready. If it is to be always ready, it must be staffed by leaders of character who will step up, do the right thing, and do it well when circumstances offer opportunities to lead.
Many opportunities for a military, maritime, multimission service will be chaotic, even tragic, and will call for the leader to provide the even-handed, even-tempered, competent direction necessary to resolve the crisis, accomplish the mission, and protect his or her team and the public. We believe the best way to do that is to provide every opportunity to develop that leadership competence through a focused developmental program. We believe a structure of learning, experiencing, analyzing, and deepening (LEAD) through mentoring and coaching does that.
Martin: Would you discuss your role in the Distinguished Tyler Leadership Chair as a "developer" of leader programming and your specific mission to cultivate leaders of character?
Loy: The Tyler Chair provided me with an extraordinary opportunity to participate in this impactful business of creating leaders of character at the Coast Guard Academy. The first challenge was to force myself to write down what I believed to be important. Our early discussions frequently referred to "it." We were going to make "it" happen, or we were discussing what constituted "it." My first assignment was to define "it." The deliverable became the book mentioned earlier. That project required me to sort through my background, my experiences, and my deeply held beliefs to produce that simple and understandable leadership framework discussed earlier in this interview.
Once we had "it" on paper, we could do the review of existing programs at the Academy and identify any gaps we found necessary to fill. The Superintendent's direction was to use the chair holder as a resource across Academy programs and courses to essentially provide a leadership development overlay to any cadet experience from which they could grow their leadership capability. I helped teach a course in each spring semester where I designed the leadership components appropriate to the course subject matter. I made a point to choose a different academic department each year, guided by the dean of academics and conscious of getting to all departments over time.
I introduced several key ideas to the cadet corps over my years as the Tyler Chair. The first challenge was to find or build a leadership development framework, simple and understandable, and uniquely the cadets.
We mandated it to be an open architecture framework, to be modified over time as they learned, experienced, and reflected. We initiated the annual lecture series where I delivered an annual leadership lecture to the entire corps during convocation week. We invited the full Academy family to attend so faculty and staff could comment on and challenge the lecture content in discussions with cadets in the barracks, the classroom, or on the playing fields.
During the first lecture, I offered the Architecture of Leadership framework as a framework not the framework. I explained it, described how it came to be, and discussed how it had served me. The challenge I left the cadets was not to accept my framework, but to find or build one for themselves, to take that on as a personal obligation to self, and further to understand that many graduates had only figured out how valuable the development experience at the Academy was after time as a commissioned officer.
We reinforced that point with an annual panel of graduates from decade-long windows who returned to the Academy and told their stories, almost always including a statement regarding how the Academy leadership development experience had prepared them for a productive life, in or out of the Coast Guard.
Martin: Would you discuss how you approached building a curriculum of lectures?
Loy: The lecture became a key method for the chair holder to reinforce the content of our leader development structure and to contribute to the LEAD process. I used an architecture framework as the background (the "it") and the evolving LEAD strategy as the source of anecdotes and examples to reinforce key learning points. I selected a theme or even a single competency element from my architecture and built not only the annual lecture around it, but also the focus of the leadership overlay in the spring course. The key was getting cadets to buy into the learning dialogue of leadership development. Repetition was an important ingredient. We identified the focus point with the lecture, repeated it in the course overlay, and generated an opportunity to reflect by seeing the lecture published in the Alumni Bulletin.
The idea was to have cadets learn by listening to the lecture, and experience and reflect on the lesson through classroom and other activities. The collective content of my ten lectures was a cumulative repetition of the competency elements in the architecture framework, which reinforced the Coast Guard Commandant's overarching competencies of leading self and others, for all service members.
Martin: How did the program of study become developed and executed?
Loy: The lectures were each an hour in length and were delivered during convocation week each fall as the cadets returned from summer training and began the new academic year. The Architecture of Leadership was a master puzzle from which I pulled a theme or competency element on which to focus. Each element was discussed as a piece to a greater puzzle and described in a way that challenged the cadets to accept or refute the elements on its own merit, but also on how it complemented all the other elements and was only optimized in the reconstructed framework.
When you step back, it is not difficult to substitute parallel challenges for a city or a company or a school. To that end, we always have tried to respect a universal application of developing leadership skills; good leadership is good leadership wherever it is found.
Martin: How did you keep your message moving after you finished your lecture?
Loy: We designed several follow-up elements to the address. We wanted the cadet corps to gain confidence in the IFL and to recognize its purpose as facilitating leader development. I used the annual speech themes as the focus of my classroom activity in the spring semester. We had the speeches published internally to provide access to the presented ideas.
We wanted multiple opportunities for cadets to consume the material. Lectures, like this series, are just one of the tools of the teacher, but when done well, they can inspire and challenge the student to gain interest and accept responsibility for the presented material.
Our follow-up was designed to be synthesized into a cadet's day, week, and years to breed a lifetime of responsibility to self. As a result, we wanted the cadets to be open to the experiences and reflection opportunities that drive the learning home. That open architecture allows the lifelong learner to continue to grow and to continue his or her growth as a leader along a path with no end.
Martin: What would you say are best practices regarding creating and sustaining a decade-long leadership address?
Loy: The key to sustaining a lengthy learning process such as our lecture series is to be able to offer the big picture (the puzzle) early and then constantly refer to that completed puzzle as you focus on a selected element (any puzzle piece) for the immediate lesson. Describing how the piece fits into the completed puzzle allows the student to gradually absorb the inter-relationships of multiple competencies as evidenced by leadership performance the cadet observes and from which he or she learns.
Martin: What do you see as the future of leadership development and how will that impact pedagogy and student learning?
Loy: The leader development challenge will continue to fascinate academics and practitioners for a long time. As a result, I wanted our program to accept that reality, and be designed to absorb and welcome change over time. I am convinced the LEAD paradigm is the best I have ever witnessed or been a part of. The content of the Academy's leader development program may get adjusted as better ideas emerge and gain traction. But, the active elements of learn, experience, analyze, and deepen can remain constant as the Academy absorbs content changes.
For example, shortly after Architecture was published, I reflected on such competency elements as agility, adaptability, and most importantly collaboration skill as important strengths of the post 9/11 leader, barely mentioned and certainly not highlighted in the initial version of my framework. That is adjusted content material all of which can be absorbed by the student using the four process steps of LEAD.
I have come to understand that we should be very clear about the capability we expect in an Academy graduate. The diploma has long represented a level of expertise in the academic major. The commission represents a level of expertise in the professional skills. No longer were we willing to "hope" the graduate was always going to be a leader of character. We chose to build a program that would guarantee it.