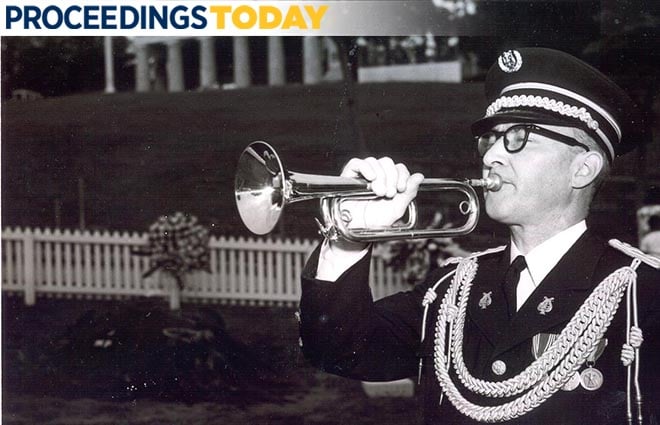 I am frequently asked how I remain composed while performing Taps at funerals. It's not always easy. If played slowly, it can last about one minute. To make that melancholy melody sing and be heard in any type of environment or weather takes years of dedicated practice. For me, deeply focusing on the soulful song is the best way to deliver the finest performance I can, every time. It doesn't matter if it's in scorching heat, sub-zero blizzard conditions, or a torrential downpour, those 24 notes need to be performed by a live bugler.  
During that single minute, everyone is silent. All eyes of the family members, friends, and the media are on the bugler. This one minute means more to that family than anyone can ever imagine. It provides closure. It epitomizes dignity, ceremony, and patriotism of the highest order.
Few other jobs can be this touching and have so much meaning for such a short amount of time. It is the most important job of a military musician, and it cannot be duplicated by a recorded device. Using a fake bugle may be more "cost effective," but is this where the government needs to make budget cuts?
This past summer I was requested to perform Taps for a memorial service. The request wasn't from the casualty office, but from one of the counselors at the Fleet and Family Support Center. I was told this was an unusual situation, and wouldn't be considered as an actual ceremonial request. It was more a favor for a grieving family in need.
When I spoke to the counselor, I learned a young Sailor (his parents' only child) had passed away in a tragic training accident. The burial had taken place a few months earlier. Because there were no musicians available at the time, Taps was performed by a Sailor holding a fake bugle. The bugle had a speaker inside the bell which played a recording of Taps. The mother mentioned that the "performer" held the bugle at an awkward angle and everyone in attendance clearly saw that the Sailor wasn't actually playing. Sadly, the mother and father were disappointed, and this is how they remembered the end of their son's military service. The family never felt true closure.
I met the parents at the cemetery on a beautiful sunny day around noon. They were overly gracious for my time and showed me several photos and told me all about their son. They spoke about his dreams and aspirations, all of which came to a heartbreaking and abrupt end. They wanted the ceremony to be memorable, so they set up a video camera in front of his tombstone, said a prayer, and had me perform Taps. Afterwards they thanked me, gave me a hug, and departed.
I poured my soul into Taps that day, and I believe I gave them the best performance of which I was capable. This simply cannot be duplicated with a fake bugle.
The recording inside the bell of the fake bugle won't make mistakes and can perform adequately as long as the batteries are strong. But is machine-like precision the only objective? Personal tribute is a much loftier goal. Imagine if the Tomb of the Unknown Soldier were guarded by robots instead of the highly disciplined professionals who currently uphold this tradition. People come from around the world to see their world-class precision because it is done by living soldiers dedicated to performing their best, every single day.
During John F. Kennedy's funeral, Army Sergeant Keith Clark played Taps in cold temperatures after waiting hours. He cracked and slightly missed the sixth note. That missed note was later dubbed the "broken note" by several news organizations, a "tear from a weeping nation." Some call it the best version of Taps they ever heard.
Having a live bugler perform Taps makes a world of difference on an awful day. When it comes to our fallen veterans, the United States should never settle for second best.
---
Musician First Class Kurt Zemaitaitis, U.S. Navy, is currently the trumpet instructor at the Naval School of Music.