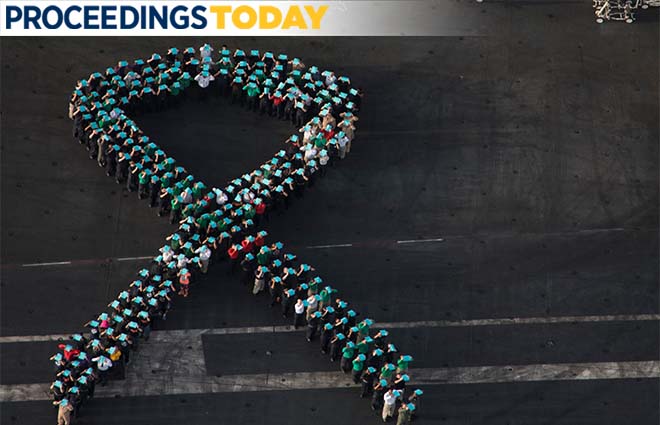 The recent scandal involving the Marines United Facebook group leaking and sharing photos of female service members leaves another sexual assault/harassment scar on the military, but it was not a stand-alone event. As a survivor of sexual assault in the military, I have a personal perspective and insight into what needs to be done to move the military forward.
I was assaulted repeatedly in boot camp by my first recruit division commander. The experience was horrific, and I reported him during my first examination. But to my disbelief and immediate regret, rather him being taken out of the command—or or, at the very least, me being taken out of his division—everything I had reported was repeated directly to him. As a result, I stood at attention in his office for nearly two hours, terrified. The experience of reporting was almost as traumatic as the assault itself.
My experience is one of countless sexual assaults, both reported and invisible, in the military. According to a Department of Defense report, in 2015 there were 5,240 reported cases of sexual assault, and the number of unreported sexual assaults rises every year. It is time for the military to address the critical elements of sexual assault and why it is so pervasive within our ranks.
To have an effective and ready military, we must provide a safe working environment for all members—male and female. Ending sexual assault and sexual harassment requires three steps: (1) reform the sexual assault/harassment reporting process at all levels, from initial reporting through the end of the trial process; (2) establish a one-day educational symposium for all commands; (3) eliminate current sexual assault information sessions, to include online training and general military training lectures.
Initial reporting of sexual assault should not involve any member of the chain of command (with the exception of the commanding officer, executive officer, and command senior enlisted member) unless a service member directly approaches another service member. It should be forbidden under the Uniform Code of Military Justice (UCMJ) to disclose information about another service member's sexual assault. An expedited transfer of the victim can remove him or her from the command in which the perpetrator might work, but more often, a service member requests a transfer because the individuals in whom he or she has confided are part of the problem.
According to Protect Our Defenders, an online forum for sexual assault survivors, "harassment was often mishandled by the chain of command: 44 percent were encouraged to drop the issue and 41 percent said the person to whom they reported took no action." Those statistics are staggering.
In sexual assault and harassment cases, commanding officers should not have the authority to singlehandedly decide whether a subordinate will go to trial.  Because this problem is so pervasive and daunting, I recommend the military change its policy and give that decision to a select group of Judge Advocate General (JAG) Corps officers, independent of the survivor and the alleged perpetrator and their chain(s) of command. There is a false belief that the alleged offender's commanding officer will render a fair and unbiased decision for both parties involved, but the high rates of retaliation and low percentage of assaults reported say otherwise.
Bias is inherent in all of us, regardless of rank or background. Protect Our Defenders notes, "In 2015, of cases where the military could take action, only 20 percent were prosecuted and just 9 percent of offenders were convicted of a sex offense." This number reveals the pitfalls of the UCMJ: bias is present in the reporting process and extends into the courtroom.
The military must do a better job providing post-assault social services to all survivors. My own legal and support services ended abruptly after the trial's conclusion. Afterward I felt isolated, and in the year following the trial I did not hear from my victim's advocate or my victim's legal counsel. This pattern is all too prevalent: services expire once when a decision is rendered, and resources that survivors desperately need are not available. The military needs a system to track survivors' post-decision conditions to ensure they continue to receive care and support.
To help educate all service members, a one-day sexual assault symposium should be held once a year for every command. The symposium would provide insight and tell service members about resources available to survivors. Speakers could present information on sexual assault trends and address the issue of underreporting. Allowing survivors to come forward and share their stories would have a much greater impact than the typical PowerPoint sexual assault prevention presentations. Creating an honest, open discussion about the problems of sexual assault and harassment would illustrate the deficiencies within current policies and procedures and guide the way for much needed improvement and reform.
My last recommendation—as both a survivor and service member—is to eliminate the current mandatory online and general military training requirements that relate to sexual assault. These have little impact on the problem and are seen as  "check in the box" exercises. To create real and lasting impact, people need to listen to real people rather than tacky actors attempting to portray scenarios of sexual assault. Military leaders must consider that their brother, sister, daughter, or son could be a victim—that would spur significant change.
The military must enact real changes to reduce the number of sexual assaults and alter any environment that is conducive to sexual harassment. A key part of the solution is to eliminate survivors' fears of reprisal from reporting an incident. A service member should never have to question whether coming forward was the right decision. Anyone serving in the military should feel empowered to come forward and report sexual assault or harassment without fear of retaliation or reprisals from his/her command. These changes are needed now. Until then, events such as the Marines United scandal will continue to detract from readiness, morale, and retention.
Petty Officer Rodriguez is currently assigned to Naval Base San Diego.  
Photo caption: Sailors on the flight deck of the USS George H. W. Bush (CVN-77) form a teal ribbon, a symbol for sexual assault awareness. 
Here is another commentary on this topic, from the August issue of Proceedings
If you are the victim of sexual assault, the advocacy group Protect Our Defenders can provide necessary resources.