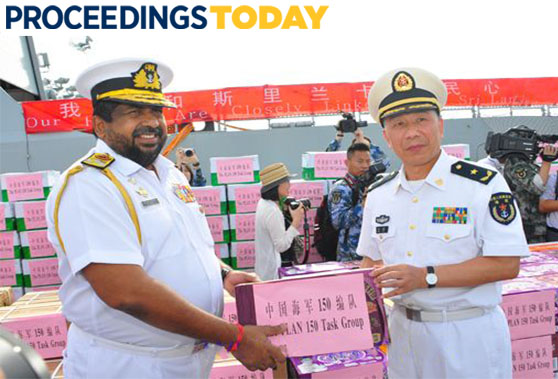 In May and June of this year, the island nation of Sri Lanka was hit by severe monsoon rains that caused extensive flooding and landslides. Heavy seasonal rains are not extraordinary in the Indian Ocean, and despite the loss of more than 200 lives, the disaster made few headlines outside the region. Nonetheless, the need for assistance was real, and many nations, including the United States, moved to help.
On 11 June, USS Lake Erie (CG-70) arrived in Colombo, where the ship was greeted by officials from the U.S. embassy. Over the next week, the Lake Erie's crew engaged in a number of humanitarian assistance and disaster relief efforts and a wide range of programs organized by the Sri Lanka Navy.
Not apparent to readers of the official U.S. Navy news stream—or apparently any U.S. media—was that by the time the Lake Erie arrived in Sri Lanka, the Chinese People's Liberation Army Navy (PLAN) already had come and gone. A three-ship task force, consisting of the Luyang II-class destroyer Changchun, the Jiangkai II-class frigate Jingzhou and the Fuchi-class oiler Chaohu, had been on the Indian Ocean phase of a six-month deployment. Scheduled to visit Sri Lanka, their planned goodwill stop quickly became a disaster relief effort.[1]
On one hand, this relief work is an example of the PLAN acting as the United States would hope—becoming a "net provider of international public goods" (in policy-speak). But the rapid presence of PLAN forces at the site of this disaster has implications for the U.S. Navy.
First, the U.S. Navy needs to recognize that the PLAN has become an effective arm of Chinese influence. It is working hard to make itself welcomed throughout the Pacific, Indian Ocean, and beyond. Beyond the First Island Chain, the PLAN is not immediately associated with its role as the stick in Beijing's aggressive maritime rights enforcement campaign. Counter-piracy task groups, deployed to the Gulf of Aden area since 2008, have become regular features in ports from Singapore to Djibouti. Dedicated deployments to support diplomacy, presence, and multinational exercises augment these regular operations.
The task force that was on scene in Sri Lanka had sailed from China on 23 April, the 68th anniversary of the founding of the PLAN, with the intent to visit some 20 nations over six months. The planned port calls were to countries being courted as part of Chinese President Xi Jinping's expansive "One Belt, One Road" initiative, and PLAN port visits in Sri Lanka are widely seen as supporting China's ongoing effort to secure long-term control of the port facility at Colombo. [2]    
Second, the U.S. Navy needs to consider and recognize its gaps in engagement. U.S. Navy leaders sometimes cite figures on the scope of U.S. Navy deployments compared to other navies. Unsurprisingly, these figures show that the U.S. Navy spends more time forward and deployed than any other navy. Often paired with a narrative that U.S. force structure generates more presence than other navies, these figures tend to imply U.S. forces are therefore more efficient and effective. What can be lost in these numbers is that U.S. deployment patterns focus the bulk of our forces in a few high-interest areas. The spaces between become "sail-through" territory, occasionally visited by transiting units.            
Third, the U.S. Navy needs to understand that it no longer has a corner on maritime soft power. The PLAN hospital ship Daishan Dao or "Peace Ark"  deploys regularly, conducting humanitarian missions in the Caribbean, Africa, and Asia, as well as participating in the Rim of the Pacific Exercise in 2014 and 2016. The U.S. Navy's support to partners and friends largely looks the same today as it did 30 years ago. Exercises follow established patterns; fleet bands provide concerts; community relations efforts carry out the same projects as a decade ago.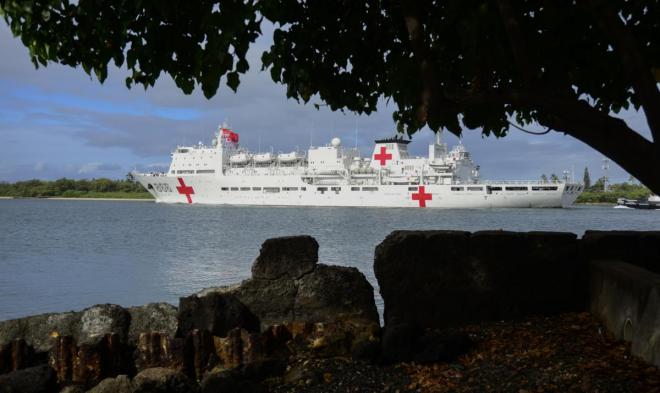 If the U.S. Navy wants to remain the "partner of choice," what does it offer that is distinctive?  How can it reimagine engagement to leverage distinctive capabilities and promote the U.S. Navy's culture to overseas partners?
Discussions of naval presence tend to focus on overall numbers. The reality of the U.S. Navy's capacity and operational requirements is that, for some friends and allies, the United States is not always the partner closest at hand. Unless and until there are more hulls to go around, the U.S. Navy needs to focus on how to make the case that it remains the partner of choice.
Captain Rielage serves as Director for Intelligence and Information Operations for the U.S. Pacific Fleet.
---
[1] Sri Lanka Navy official web site, "Three PLA Navy ships arrive in Colombo," http://news.navy.lk/eventnews/2017/05/31/201705311740/;  "Three Chinese naval ships arrive in Sri Lanka to assist in flood relief," Xinhua, June 6, 2017, http://news.xinhuanet.com/english/2017-06/01/c_136331636.htm
[2] "Chinese navy fleet begins half-year friendship visits," China Daily, April 23, 2017,  http://eng.chinamil.com.cn/view/2017-04/23/content_7572675.htm; "Three naval ships set sail on Goodwill Voyages,"  China Daily, April 24, 2017, http://usa.chinadaily.com.cn/china/2017-04/24/content_29058789.htm 
Photo captions: 1) The Commander of the Sri Lankan Navy accepts relief supplies from the Commander of the Chinese Navy surface action group visiting Colombo in June 2017. 2) The Chinese hospital ship Peace Ark (Daishan Dao), shown here exiting Pearl Harbor, HI, in 2016, is currently on a deployment to Africa.