Optimizing Cyberdeterrence
Robert Mandel. Washington, DC: Georgetown University Press, 2017. 289 pp. Biblio. Index. $32.89.
Reviewed by Captain William Toti, U.S. Navy (Retired) and Colonel Ed Keegan, U.S. Air Force (Retired)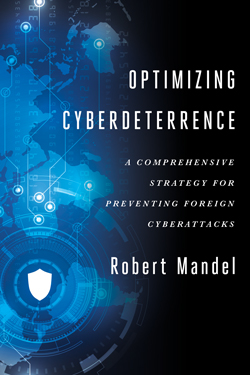 If you read only one book on cyber-deterrence, this is the book to read. The cyber realm is the high seas of our time. On the high seas, international law presides, with the caveat that operations by "private" vessels in international waters are governed by the laws of the nation whose flag the ship flies.
Unfortunately, at the time of this writing, no corresponding norms have been established for the cyber domain. It is as if each private party and each company's "ship" sailing on our cyber seas must fend for itself and make its own laws.
Enter Robert Mandel's excellent book, Optimizing Cyberdeterrence. It starts with a short survey of recent cyber events, a gleaning of common themes, lessons learned, and ways to improve cybersecurity. The book then dives into a more deterministic analysis of case study patterns, methods of improving cyberdeterrence planning, and methods of improving cyberdeterrence execution.
The implication of these lessons is in effect a reversal of the Treaty of Westphalia, which established the state as the supreme governing entity on earth and vested the power of war solely within the state. The current cybercrime environment harkens back to the Middle Ages, when wars could be waged by anyone with the means to do so, for any reason (to include religious causes). While there certainly is a group of cybercrime perpetrators who do it for the same reasons other criminals commit crimes, what makes cybercrime different is that there are groups that believe they do not benefit from a stable world order and therefore have no reason to play by the established rule-set. They are motivated to use cyberattacks to create instability intended to reverse (or at least disrupt) world order. (Perhaps this is Russia's current casus belli?)
The book's strength is that it departs from the standard set of potential deterrence options, outlining what Mandel refers to as "orthodox" and "unorthodox" deterrent measures. The real insight derives from his extrapolation of the unorthodox. For example, he weighs in heavily that private industry must "own" part of the deterrent regime, to include punitive measures. An example might be a large international bank being willing to call a loan on a government or entity suspected to be supporting cyber events, and a willingness to do so without government direction or intervention.
Mandel also outlines methods of integrating and stabilizing cyberdeterrence, to include cyber burden sharing, arsenal broadening, protection equalization, and outcome evaluation.
The book also makes a strong cry for the establishment of international norms, sort of an international "law of the cyber seas" agreement. Unlike the U.N. Convention on the Law of the Sea, in the cyber domain there likely will not be any standard of behavior that could be established as customary. So, without a formal agreement on conventions, the cyber domain is likely to remain an outlaw domain for the foreseeable future.
Of course, the book is not perfect. It intentionally focuses on international, security-related cyberthreats. It underplays the significance of insider threats (like Edward Snowden) and several other criminally motivated threats capable of wreaking havoc on U.S. institutions. It also does not deal with the very real possibility that the U.S. military will almost certainly be called in to help with civil issues, dancing very delicately on posse comitatus restrictions.
One lesson derived from the book is that contrary to those who would lead you to believe that "back-office" IT systems are merely administrative, all military networks are mission systems and need to be treated as such, because there is a direct connection between cybersecurity posture and the ability to perform military missions. Hence, security training must be treated as the cyber equivalent of defense-in-depth combat arms training for the newest warfighting domain, rather than a "check the box" task once per year.
For senior military leaders, the book shows how the biggest bang for the Department of Defense's buck is to ensure rudimentary network management (patching, version upgrades, etc.) is treated as a priority. Doing so would eliminate most of the current threats, freeing scarce resources to be used to resolve a much smaller set of threat vectors and actors.
For strategists, the book highlights how cyber is changing the underlying framework of alliance strategy. In World War I, alliance commitments dragged the world into a war that might have been preventable. Senior leaders need to consider whether we want a cyberattack (such as in the Republic of Georgia) to trip another alliance-driven shooting war, and if not, how we rethink alliances to ensure we continue to have mutual defense without the unintended consequences.
One final note also not covered by Mandel's book: the U.S. judicial system is founded on the principle that allowing ten guilty people to go free is better than sending one innocent person to jail. While this precept is integral to our core beliefs, it is time to confront the fact that most cybercrime is perpetrated from outside the United States. Just as the Barbary pirates forced Thomas Jefferson to rethink his world-view with respect to appropriate national responses, perhaps as it pertains to cybercrime, this one foundational principle may need to be reevaluated.
Captain Toti is a retired submariner who currently serves as a vice president for DXC Technology. Colonel Keegan is director of public sector cybersecurity solutions, also for DXC Technology.
America's Sailors in the Great War: Seas, Skies, and Submarines
Lisle A. Rose. Columbia, MO: University of Missouri Press, 2017. 328 pp. Notes. Biblio. Index. Illus. $36.95.
Reviewed by Colonel John J. Abbatiello, U.S. Air Force (Retired)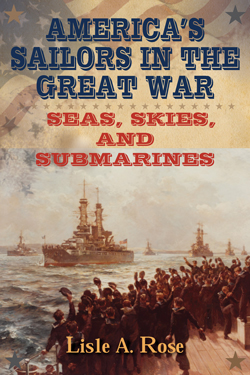 One hundred years after the U.S. entry into World War I, Lisle A. Rose presents a new work that investigates the experiences, challenges, successes, and failures of American sailors who served in the Great War. A seasoned author with 13 books to his credit, Rose's excellent three-part Power at Sea (University of Missouri Press, 2006) perhaps is best known to Proceedings readers. In America's Sailors in the Great War: Seas, Skies, and Submarines, Rose skillfully presents a balance of operational history, strategic-level context, and individual experiences to tell the story of the U.S. Navy's role in World War I.
Rose's background as an enlisted sailor in the 1950s makes him particularly suited to write this work. After being honorably discharged in 1957, he focused on his education, ultimately earning a doctorate in U.S. history from the University of California-Berkeley in 1966. He later served as an historian and staff officer for the Department of State. Rose demonstrates his literary and research skills throughout the book, employing an engaging writing style and making use of contemporary diaries, oral histories, official Navy reports, published memoirs, and secondary works to provide the historical data for this book.
After setting the context of the Great War at sea, Rose presents his story by mission sets, with separate chapters describing escort duty, naval aviation, hunting patrols, and battleship service in the North Sea. After suffering through foul weather across the North Atlantic, U.S. Navy crews got to work immediately upon reaching European waters. Destroyer Division 8, under Lieutenant Commander Joseph Taussig, arrived in Queenstown, Ireland, on 4 May 1917, and these six destroyers represented the first contingent of warships to serve in Europe. When asked by the local British naval commander how long it would be before being ready for operations, Taussig famously responded that his ships would be ready as soon as they were refueled.
An early chapter entitled "'Drab Efficiency': The Making of the Convoy System" superbly explains the Navy's experience protecting merchant vessels, making use of destroyers, armed yachts and other small vessels, and aircraft. The Navy provided "roughly 27 percent" of all destroyer escorts for convoys during the war, a key contribution that made the entire convoy system possible.
Americans employed new technologies alongside their British partners, who served as willing teachers to eager students. Of note, U.S.-designed "submarine chasers" sailed in formations of three ships and made extensive use of early hydrophones to listen for German U-boats. Flotillas of these 85-ton wooden-hulled vessels typically operated near important ports in the English Channel and over minefields in the Adriatic. Eventually, 134 sub chasers—normally armed with a 3-inch gun and depth charges—served in European waters.
In a lengthy wrap-up chapter entitled "Barrages, Batteries, Bombers and Battleships," Rose paints a picture of the complete contribution of the Navy during 1918. U.S. battleships learned British signaling techniques and sailed both independently and with the Grand Fleet in the North Sea. Naval aircraft contributed to antisubmarine patrols and planned a round-the-clock bombing campaign against German naval facilities in Belgium. U.S. submarines hunted German U-boats. Interestingly, the author describes the massive effort to sow U.S.-made mines across the North Sea from the Scottish coast to Norwegian territorial waters. Known as the North Sea Mine Barrage, the barrier would be heavily patrolled once established. The concept required innovative development of mine-laying vessels, which began sowing the mines in July 1918. By the end of the war, 85,000 U.S.-made mines arrived in European waters, and 57,000 of them were safely deposited into the North Sea Mine Barrage without any shipboard explosions. By the time of the Armistice, the barrier was approximately 85 percent complete. Though not effective in sinking any U-boats, the barrage demonstrated U.S. resolve, ingenuity, and the sheer will to try any method to get after the enemy.
Rose's America's Sailors in the Great War achieves its aims of describing U.S. efforts in 1917-18 and evaluating their performance, which was generally superb. In this centennial period of commemoration, we should read books such as Rose's to remind ourselves of the Navy's long tradition of excellence in service to the nation.
Dr. Abbatiello earned his doctorate from King's College London and is the author of Anti-Submarine Warfare in World War I: British Naval Aviation and the Defeat of the U-Boats (Routledge, 2006). He has served on the U.S. Naval Institute's Editorial Board and has been a member of the Institute since 1995.
Chasing Ghosts: The Policing of Terrorism
John Mueller and Mark G. Stewart. Oxford: Oxford University Press, 2016. 391 pp. Tables. Appendices. Biblio. Index. $29.95.
Reviewed by Walter E. Kretchik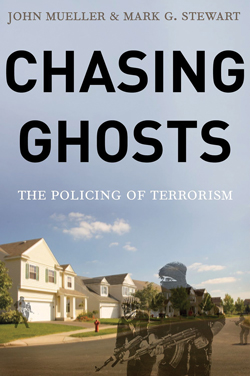 In Chasing Ghosts: The Policing of Terrorism, John Mueller and Mark G. Stewart provide a thorough analysis of the creation, costs, and outcomes of counterterrorism policies. The authors argue that current counterterrorism efforts mimic past endeavors that pursued "witches and communists." Their thesis is that current U.S. government agency attempts to thwart attacks are ludicrous and wasteful in terms of resources. They conclude that terrorists historically have made no real impact on civilization; the threat is overblown. It will eventually burn itself out.
Mueller and Stewart believe terrorists are bumbling dolts who occasionally get lucky. The included data makes a strong case to support that assertion because extremists fail more often than they succeed. But fanatics also achieve occasional spectacular results that not only dominate the media but generate fear. Achievers attain an almost mythical aura that may serve to inspire others. No politician dare excoriate a successful terror attack as a fluke, thus the federal, state, and local government witch hunt continues and expenses increase.
The book is divided into two parts. Part 1 is labeled "The Ghosts," an inquiry into the threat and its capabilities. Chapter 1 identifies official perceptions of terrorists within a "threat matrix" that scrutinize the outcomes of 11 September 2001 and how subsequent institutionalized paranoia developed into a "never again" attitude. The second chapter explores historical case studies of previous events such as Pearl Harbor and the Cold War coupled with current survey data to reveal public perception trends regarding threats. Chapter 3 delves into terrorism and the United States to include sources of terrorism, recruitment, motive, and other topics. Exposing the notion of terrorist masterminds and their ability to strike is the purpose behind the relatively short chapter 4. Part 2 is titled "The Chase," a comprehensive assessment of policing terrorism primarily at the federal and local levels in the United States. Chapter 5 weighs the so-called counterterrorism enterprise—the collective effort to fund and stymie attacks explained in terms of costs and benefits. The sixth chapter researches Federal Bureau of Investigation efforts and outcomes. The surveys in chapters 7 and 8 fixate on National Security Agency and Department of Homeland Security ventures, respectively. Chapter 9 considers local and airport police actions. A succinct conclusion follows.
The authors' argument rests upon threat competence evaluation and assessing the merits of counterterrorism programs. They probe the terrorists' mindset, weigh their desire to act, evaluate accessibility to targets, appraise planning capacities, and assess the mechanics of mission execution. Mueller and Stewart find that terrorists are far less sophisticated than many believe. Their limited success is equivalent to the number of American deaths from drowning in a bathtub per year. The authors also decided that one human life is worth $15 million. Countermeasure expenditures total $15 billion. To justify the investment, counterterrorist agencies would have to save 7,000 to 8,000 lives annually, which to the authors is fantasy.
Assessing counterterrorism program merits consists of weighing the number of government organizations involved versus actualized outcomes and public opinion. There are two counterterrorist organizations per extremist, which in the authors' opinion is overkill. The government also has claimed "unjustified credit" for preventing attacks that may not have been genuine threats. In the realm of public opinion, surveyed Americans did not know that counterterrorist groups existed or their purpose. While the authors made clear that public opinion drives government officials to implement counterterrorism programs, they found that Americans do not believe themselves to be safer today than after 9/11, the Boston Marathon bombings, or the San Bernardino shooting. They conclude that policing terrorism is necessary but the amount of effort currently expended is a waste of time and money.
The authors' work is informative but unrealistic and insensitive. It provides tremendous insight into the challenges policymakers face to prevent terror attacks in the United States. But there is far less inquiry into foreign government undertakings, which makes a broad comparison difficult. The authors' suggestion that U.S. government officials should make hard but correct choices to downplay the threat is both bold and impractical. Elected officials would commit political suicide if they embraced that line of thinking.
The book overlooks the strong emotions that arise when terrorists succeed and media outlets provide visual results. As with many academicians, the authors offer no feasible solution to a complicated issue. Readers will find this book to be an excellent reference for comprehending the nature of terrorism and how counterterrorism policies evolved within the United States, but not as a guide for changing government policy.
Dr. Kretchik is professor emeritus of history at Western Illinois University. He is the author of several books, including Eyewitness to Chaos: Personal Accounts of the Intervention in Haiti, 1994 (Nebraska Press, 2016) and U.S. Army Doctrine: From the American Revolution to the War on Terror (University Press of Kansas, 2011).
NEW & NOTEWORTHY BOOKS
Rocky Boyer's War: An Unvarnished History of the Air Blitz that Won the War in the Southwest Pacific
Allen D. Boyer. Annapolis, MD: Naval Institute Press, 2017. 364 pp. Illus. Index. $29.95.
The author used his father's diary as the foundation for this book, and it lives up to its title's billing as an unvarnished history—hard drinking escapades, chasing Australian women, bad mouthing West Point graduates, and so forth. While the younger Boyer largely succeeds in not obscuring his father's voice, his own research and contextualization of Rocky's diary entries give the book a blended voice of both historical analysis and first-hand accounting. The book begins with Rocky Boyer's June 1941 graduation from Franklin College and induction into the Army Air Corps, but the bulk of the narrative covers just one year, from late 1943 to late 1944 during his southwest Pacific service. There are much better histories of this critical aspect of the Pacific war. But if you find yourself thinking "I know what happened, but what was it really like to be there?" this book is for you.
The Killing School: Inside the World's Deadliest Sniper Program
Brandon Webb with John David Mann. New York: St. Martin's Press, 2017. 339 pp. Illus. $27.99.
Retired Navy SEALs willing to write on their experiences have become hot properties for several major U.S. publishers, and Brandon Webb addresses this sensitive subject in the dedication. Regarding the book's subject, Webb, through an often-choppy narrative, invites us inside the U.S. Naval Special Warfare (SEAL) scout/sniper school, a course he led and completely revamped based on his own experiences as a SEAL sniper in multiple global war on terror deployments. The best parts of the book deal more directly with specific sniper skill training, as the sniper craft is far more complex and demanding than most lay persons probably realize. A few contemporary sniper legends appear throughout the book, including Navy SEALs Marcus Latrell (Lone Survivor) and the late Chris Kyle (American Sniper), and anecdotes about snipers in action are entertaining enough, if you do not tire of war story lingo that includes a lot of "BOOMs" and "POP, POP, POPs."
Warship 2017
John Jordan, ed. London: Bloomsbury, 2017. 206 pp. Illus. $38.99.
Warship first appeared 40 years ago as a quarterly publication. Dedicated to the "design, development, and service history of the world's combat ships," 2017's edition will not disappoint the professional researcher or amateur naval history enthusiast. The 11 feature articles include essays on the conversion to light carrier of the Imperial Japanese cruiser Ibuki after Midway, the first steps of the Royal Italian Navy to develop an aviation capability, and the fascinating story of the last U.S. Navy monitors, ordered during the Civil War but still in service in the early 20th century. Warship developments and modifications are far more than technical tales of innovation. They occur with purpose against a backdrop of domestic politics and geopolitical crises, and the 17 expert contributors to Warship 2017 do excellent work weaving in that context.
Enduring Vietnam: An American Generation and Its War
James Wright. New York: St. Martin's Press, 2017. 351 pp. Index. Biblio. $29.99.
The Vietnam War and its social and political consequences for the United States are rarely taught today, whereas in the 1980s they were standard fare in university social and political science departments across the country. For those curious enough to learn more about the American experience in Vietnam, and especially those who look forward to Ken Burns' much anticipated Vietnam War documentary due out this fall, James Wright's Enduring Vietnam should be compulsory reading. Both a longtime history professor from Dartmouth College and an advocate for veterans, Wright presents the long and tragic experience through the eyes of the war's generation—those who directed it, fought it, and covered it. His research was extensive, including interviews with more than 150 subjects and visits in Vietnam to the sites of important battles. The United States has now been in Afghanistan nearly twice as long as it was in Vietnam, with no end in sight, yet the Vietnam War had a much larger impact on American society. Wright does a superb job in showing us why.
Captain Bray served as a naval intelligence officer for 28 years before retiring in 2016. Currently, he is a managing director in Ankura Consulting Group's geopolitical risk practice.