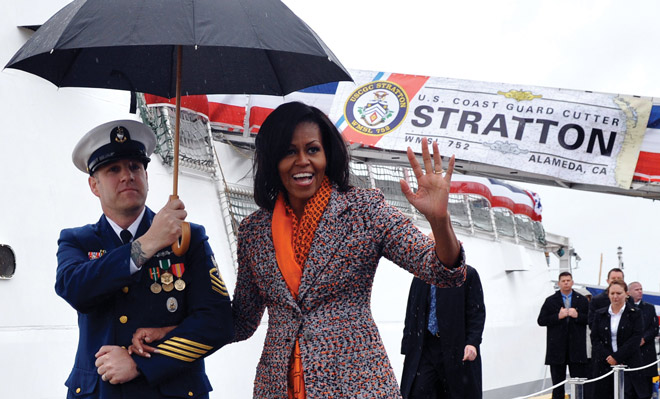 U.S. Coast Guard (Patrick Kelley)
Aligning an armed service with the domestic policies of the President requires a sensitive touch because getting too cozy with one administration can make it difficult to thrive under the next. With reports emerging that President Donald Trump is weighing significant budget cuts to the Coast Guard, it appears the service overplayed its support of President Barack Obama's policies. To avoid painful cuts the Coast Guard must lose Obama administration-era vocabulary and develop a new rationale for its priorities.
It is understandable that Trump's election surprised Coast Guard leaders. The service, however, should have realized more quickly the peril of being "all in" on Obama's priorities in its budget and strategy documents.
For example, the number one priority for sustaining mission excellence in the Coast Guard's 2017 budget fact sheet is "enhanc[ing] Coast Guard military justice capabilities, including the handling of sexual assault allegations." The Coast Guard was obliged to implement the Obama administration's policies on sexual assault, but it had no obligation to present its compliance as its most important mission performance initiative. This makes it harder to plead any readiness shortfalls, because all problems are, by the Coast Guard's admission, less important than this issue. This is an unforced error.
Another unforced error was associating major acquisitions with partisan issues. The "Commandant's Strategic Intent 2015-2019" and the "Implementation Plan for the U.S. Coast Guard Arctic Strategy" link new icebreakers and other polar capabilities to one side of the climate change debate—the side not supported by the new President. It was unnecessary to create this political liability because the need for polar capabilities is not contingent on climate change. It would have been more persuasive and less contentious to justify icebreakers in terms of increasing energy exploration, economic activity, and regional competition without predicting the presence of more, less, or the same amount of ice.
Examining former Coast Guard Commandant Admiral James M. Loy's management of the 2000 presidential transition is instructive. When Admiral Loy became commandant under the Clinton administration, his priorities were to fund the replacement of the medium- and high-endurance cutters and to upgrade the aviation fleet. He gained buy-in by explaining the need for a larger acquisition budget in terms consistent with President Bill Clinton's view of post-Cold War challenges. Admiral Loy spoke of the Coast Guard as a "unique instrument of national security" and framed drug and migrant interdiction not as law enforcement actions, but as national security functions.
As the 2000 election approached, Admiral Loy's staff researched Condoleezza Rice's positions to be prepared to communicate in terms that would resonate if she were to lead a George W. Bush administration's national security team. Rice disapproved of characterizing non-military issues as national security threats, which meant Admiral Loy's "unique instrument of national security" explanation needed an update.
Admiral Loy subtly revised his "unique instrument" pitch to align fleet renewal with Rice's concern to fulfill the nation's post-Cold War military responsibilities to allies and friends. He did not reissue strategic documents or make drastic changes, but he started speaking the language of the incoming administration—less talk of drugs as a national security threat and more talk of promoting regional stability and helping friendly nations responsibly exercise maritime sovereignty.
Admiral Loy's change of tone helped sustain momentum for a permanent upgrade of the acquisition budget. Today's national security cutters, offshore patrol cutters, C-27J aircraft, upgraded C-130 aircraft, and other major projects could have been killed, reduced, or delayed if Admiral Loy had not adjusted to harmonize with the new administration.
Today, the Coast Guard is heavily invested in the losing party's rhetoric. Luckily, President Trump's announced priorities provide a road map. He wants to stop illegal immigration, promote energy production and other commercial activity, and defend U.S. interests against foreign competition.
To overcome threats to its budget, the Coast Guard must seize this opportunity to up its game and deliver the Coast Guard the nation requires.
Captain Vanderplas served as special assistant to Admiral James M. Loy and the Coast Guard's chief of public affairs. He operates Slow Learner Press, a startup nonfiction publisher.