While the mission is vital, keeping the James at anchor for any extended period is a real waste—the multimission ship is capable of doing so much more. But the need for a floating command center might continue for quite a while.
An alternative is available—another ship already outfitted as a floating command base, able to give multiple agencies and officials the kind of situational awareness and communications facilities they need. The ship can refuel helicopters, support small craft, and provide berthing and feeding facilities for hundreds of passengers. Even better, the ship has nothing else to do—meaning it can stay as long as necessary—and she's only three steaming days away.
The USS Ponce (AFSB[I]-15)—named for the Puerto Rican city—is an afloat forward staging base, a recently-developed kind of ship intended to support small craft, helicopters, combat teams. and commanders in a forward operating area. She is at Norfolk, Virginia, having just returned on 27 September from a successful five-year mission in the Persian Gulf. The Ponce was converted to a staging base in 2012 from an amphibious landing ship, and has been replaced by a larger, built-for-the-purpose ship. The Proud Lion—the ship's nickname—now has nothing to do except be decommissioned and scrapped.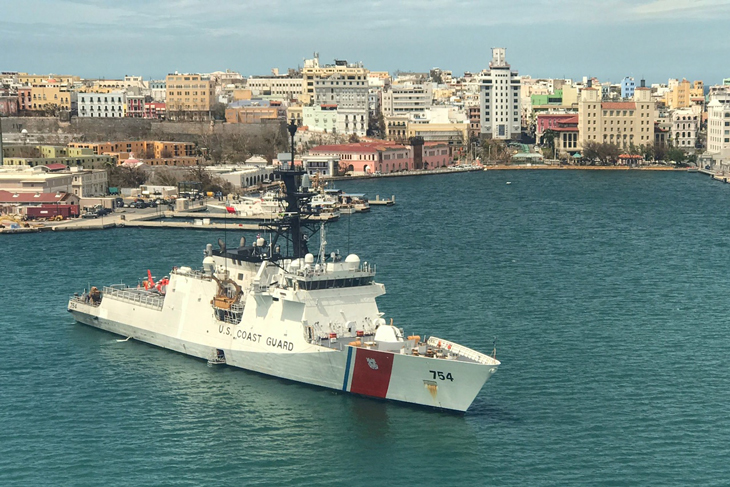 But the Ponce could be rapidly refurbished and sent to the Caribbean, where its facilities would be highly useful for weeks and months to come as work continues to help, clean up, and restore Puerto Rico and the U.S. Virgin Islands. The Ponce is far more capable in the role than the James , which could be released to go back doing what it is designed to do. The Navy used civilian mariners to operate the Ponce in the Persian Gulf, meaning few military personnel will be needed in the relief role. The aged ship is not without problems—her propulsion machinery is nearly worn out—but that will not be very important if she does not need to travel much.
All the other Navy and Coast Guard ships now assigned to disaster relief have regular jobs to do—they are not available for lengthy commitments without negative impacts on other mission areas. The Ponce can go and stay as long as she's needed.
The most important attribute for any emergency response is simply to be on the scene. The Navy and the federal government should move with all due speed to cancel the Ponce's inactivation, restore its capabilities and send her as soon as possible to the Caribbean.
---
Mr. Cavas was the naval warfare correspondent for Defense News from 2004 to 2017 and is a former managing editor of Navy Times . He has reported on Navy issues across the globe, including aboard USS Ponce in the Fifth Fleet and aboard National Security Cutters. He can be reached at [email protected] .