Only recently has the Navy started giving proper attention to its lack of a modern offensive surface-to-surface missile system. The Harpoon antiship missile still exists in the fleet inventory, but it was designed in the 1970s (with some level of modernization and upgrade during its life span). The development of the long-range antiship missile (LRASM) is recognition that it is time to give surface combatants more punch.
Sailors have not seen in-your-face kinetic combat in a long time. Today, surface-borne combative action is conducted by either organic or non-organic tactical aircraft or satellite-guided Tomahawk land-attack missiles (TLAMs) launched hundreds of miles from the target.
In 1999, I was deployed in the Adriatic Sea on board the USS Leyte Gulf (CG-55) in support of Operation Allied Force/Noble Anvil. We launched multiple volleys of TLAMs at targets in and around the former Republic of Yugoslavia. These launches are impressive to witness—the ship shudders from the powerful booster's ignition, and the missile departs the vertical launching system on an orange plume of fire, accompanied by a mighty roar. But not long after launch, the booster falls into the water and the missile continues silently toward its target, guided by GPS. The real business of that missile flight occurs at termination, and the Sailors who launched that missile are hundreds of miles away, tucked inside the relative safety of their ship.
Are We Ready?
In a recent podcast, Chief of Naval Operations (CNO) Admiral John Richardson talked about toughness. This is not new territory for the CNO. In his "A Design for Maintaining Maritime Superiority," Admiral Richardson included toughness as one of the four core attributes of the Navy's professional identity. Navy leaders have focused on "toughness," raising concerns that in a conflict with a near-peer adversary, the Navy would suffer casualties at a rate not seen since World War II.
Though surface-to-surface engagements no longer are common, the U.S. Navy has suffered a few bloody noses in recent history. The USS Stark (FFG-31) was struck by two Exocet antiship missiles fired by an Iraqi fighter that mistook her for a merchant in May 1987, resulting in the deaths of 37 Sailors. The USS Samuel B. Roberts (FFG-58) struck a mine in April 1988 in the Arabian Gulf during operations in support of Operation Earnest Will. During Operation Desert Storm in 1991, the USS Tripoli (LPH-10) and the USS Princeton (CG-59) suffered mine strikes in the waters of the northern Gulf. In October 2000, the USS Cole (DDG-67) was attacked by an explosive-laden boat while in port in Aden, Yemen, for refueling, killing 17.
Last October the USS Mason (DDG-87) was attacked multiple times by Houthi rebels occupying portions of Yemen near the Red Sea. She employed self-defense ESSM and SM-2 missiles in addition to the Nulka active countermeasures system, protecting herself as well as the USS Ponce (AFSB-1) and the USS San Antonio (LPD-17). A short-range antiship missile attack of this nature provides little time to detect, identify, and prosecute a successful engagement, but the Mason was prepared and responded appropriately and proportionally. Readiness at the tip of the spear is paramount.
The attack on the Mason was a game changer. The Navy surface fleet is now on notice that an attack can come anytime, anywhere. We must embrace the lessons from all these attacks and prepare the modern surface Navy to deal with next-generation threats and surface combat.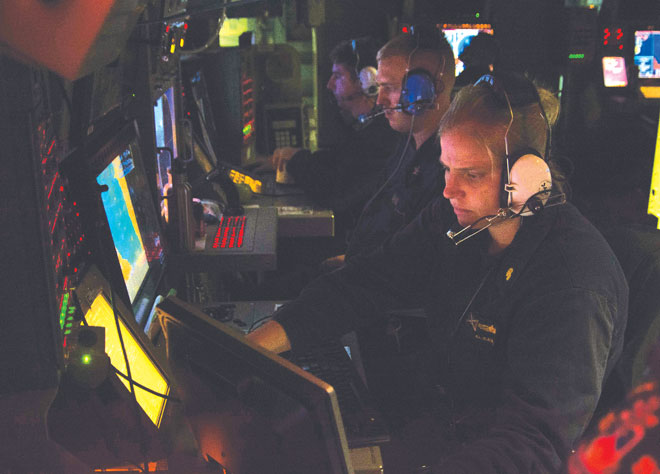 "Mission First" Leadership
Navy leaders must focus on "mission first," without allowing competing interests to pull them from preparation for future combat. Administrative tasks, uniform changes, and new policies have their place, but they should never take away from realistic battle training. Every billet in the Navy is connected to precision readiness and sharpening the tactical sword. The most critical aspect of front-line leadership must be preparation, the same as it has been since the Continental Congress created the Navy in 1775.
To teach toughness and prepare for surface combat, the Navy must train and train some more. Conduct realistic scenarios with escalating levels of complexity and simulated damage. Cross-train outside the sphere of influence. Treat general quarters scenarios and drills with sanctity and sincerity. Think about worst case scenarios and how best to prepare our young men and women for these situations. Have realistic, candid discussions with Sailors on why we train, and what happens when we don't. Finally, search berthings, staterooms, and repair lockers for complacency and apathy and jettison those over the side.
No one knows how he or she will respond when missiles are inbound or a massive explosion rocks the ship at the waterline, but we sweat in training so we don't bleed in combat. But when we do bleed, proper training will ensure we are prepared to take care of business.
---
1. The Simpson was one of a handful of U.S. Navy assets involved in a skirmish with Iranian naval forces during Operation Earnest Will in April 1988 in the Arabian Gulf; including engaging and sinking the Kaman-class missile patrol boat Joshan.
Master Chief Renick is assigned to Pacific Fleet Chief Petty Officer Waterfront Training Team, Detachment San Diego. His command master chief tours include: the USS Bulkeley (DDG-84); Electronic Attack Squadron (VAQ) 129; and the USS Nimitz (CVN-68). He has deployed in support of Operations Desert Shield/Storm; Allied Force; Southern Watch; Enduring Freedom; the Global War on Terror; and counterpiracy and counterdrug operations. Master Chief Renick holds an associate degree in general studies from the University of Maryland University College and is finishing his bachelor of science in management studies. He also is a graduate of the U.S. Senior Enlisted Academy and the CMC/COB Capstone course in Newport, RI.