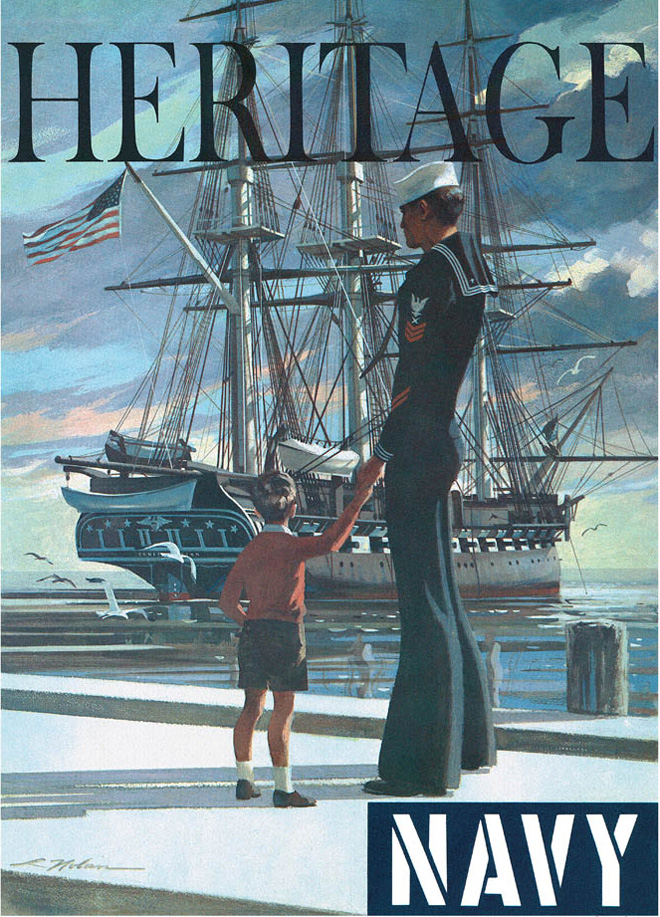 Many fear that abolishing Navy rates will produce a bland new service culture that robs us of the Navy's heritage and traditions.
The recent announcement of an overhaul of the Navy's enlisted career management by the Chief of Naval Operations has left both head scratching and fuming in its wake. The fuming can be left to the bloggers who perhaps rightly fear the slide into some vague, bland new service culture that robs us of the Navy's traditions. The head scratching, which significantly includes many active-duty leaders as well as those of us on the sidelines, is more concerning. Taking the announcement at face value, the intention seems to be to redo the Navy's approach to enlisted job descriptions to de-emphasize the long-standing rating structure and move to a broader approach that favors more generalization.
The Navy's categorization of its enlisted ranks into discrete specializations distinguished by the rating structure has evolved with the service. Highly technical knowledge and experience are necessary in doing the very dangerous tasks of keeping ships and submarines at sea and planes in the air.  Individual specialties needed to keep complex machines and systems operating safely must be blended into a team. The hum and vibe evident in any good Navy command are the result of this skillful blending.  Sailors traditionally have taken pride in the individual skillsets their respective ratings bring to a ship, submarine, or squadron, and the resulting intramural competition among divisions and departments is a key piece of that command's efficiency.
NAVADMIN 218/16 vows to eradicate this cultural phenomenon of pride in rating over the course of a "generation" without stating what the specific harm in it is. In fact, those of us with significant time at sea leading sailors see much good in the unique worldview and approach each rating brings. It is difficult to see what is wrong with boatswain's mates being proud of being called "Boats," or engineering ratings being known as "Snipes." More important, the difficult and technical job each does requires all sailors to see their ratings as the cornerstone of their value to the service. Not surprisingly, sailors also see their ratings as an essential part of their own personality and commitment to the Navy.
It is unclear from the NAVADMIN if the Navy plans to eliminate all vestiges of the current and traditional rating structure. Addressing sailors by their rating is now forbidden? Will the distinctive rating device disappear from uniforms as well? The NAVADMIN claims this change is part of an effort to allow sailors to shift their specialties and assignments more easily in the course of their careers. This concept of "job-hopping" sailors needs a careful examination. It certainly would seem to weaken the skills of an apprentice or journeyman technician.  Would a sailor who just starts to gain proficiency head off to a new job?  If so, this could portend even worse scenarios among senior enlisted leaders. We count on our senior petty officers and chiefs to have strong technical understanding and experience in critical situations, which are only gained after years of study and practice.
The shift to generalization and cross training opens many questions. Recent experience, particularly in the surface community, suggests we need to reinforce specialist competencies. The spate of engineering failures in littoral combat ships (LCSs) has been attributed to poor maintenance and operations practices, the very essence of technical rating proficiency. The casualties show that we need enhanced technical training and emphasis on detailed procedures. At the same time, the LCS manning concept has been revamped, with an upgrade in crew composition and a reorganization of the crew to look more like that of a traditional Navy ship, with specialization and depth in technical skills. Generalization and the theory that jobs required to run a ship can be shared among a wide range of sailors have not served the LCS well.
The Navy's enlisted career path restructuring seems connected to other recent efforts at gender equality. Why Navy leadership sees a connection between treating people with respect and restructuring technical specialization is unclear. Technical competency, particularly when it comes to safely operating dangerous machines in hostile environments, has nothing to do with gender. The Navy operates in environments that are harsh and unforgiving regardless of our gender and regardless of sailors' titles. It is one thing to change names and titles. It is another thing, however, to scrap an effective and proven approach to recruiting, training, and operating.  Plain "vanilla," untitled sailors may not be the highly trained and skilled technicians the Navy needs to succeed in the 21st century.
---
Commander McKearney is a retired surface warfare officer whose twenty years of service included both destroyer and amphibious forces, including command during wartime. In his civilian career, he has analyzed operations and evaluated new technologies for the fleet.