#2 The Submarine

USS Thresher (SS-200), in January 1944, views a sinking Japanese merchant ship it had torpedoed.
U.S. Navy carriers are often credited with defeating Japan, but 55 percent of Japanese naval tonnage sunk was by U.S. submarines. By 1945, Japan's maritime lifeline to raw materials and food imports had been devastated by U.S. submarine torpedo attacks. Clay Blair Jr. put succinctly in his classic history of World War Two submarines, Silent Victory (Naval Institute Press 2001) . . . "The atomic bombs were simply the funeral pyre of an enemy that had already been sunk by" . . . the U.S. submarine force. On 2 May 1982, the submarine proved once again its decisiveness as Britain's HMS Conqueror (S-48) fired three 21-inch Mk 8 mod 4 torpedoes sending the Argentine Navy's ARA General Belgrano to the bottom. The effect was that the Argentine surface navy returned to port and was bottled up for the duration of the Falkland's War. The submarine impressive battle record makes it the second most effective naval weapon ever used.
# 1 The Carrier and Its Aircraft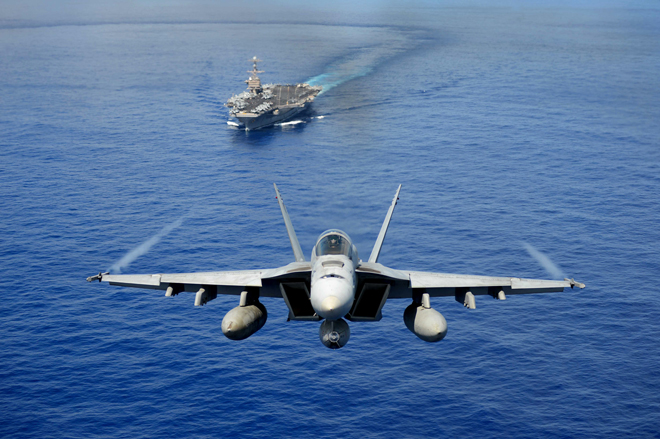 This F/A-18E Super Hornet demonstrates the tremendous combat capability the aircraft carrier, such as USS John C. Stennis (CVN-74), can deliver.
For good reason, U.S. Presidents have in crisis situations been known to ask, "Where are the carriers?" These ships, loaded with unparalleled aircraft and weaponry, are the United States' foremost power-projection tools. Carriers have been synonymous with U.S. Navy combat prowess. From the Doolittle Raid launched from the USS Hornet (CV-8) and the might of the USS Yorktown (CV-5), Enterprise (CV-6), and Hornet during the Battle of Midway in 1942, the USS Essex (CV-9), Boxer (CV-21, Princeton (CV-37, and Valley Forge (CV-45) in Korea, to the carriers on Yankee Station in Vietnam, these cities afloat have been the workhorses of the fleet. Carriers armed with attack bombers, dive bombers, fighters, reconnaissance aircraft, and torpedo bombers have proved devastatingly effective since the first takeoff of an aircraft from the deck of a ship in 1910, making it the most-effective naval weapon ever used in combat.