On 2 May U.S. Navy SEALs attacked the compound of Osama bin Laden, architect of the 9/11 attacks. They killed him as well as his trusted courier and others, including at least one of his sons.
The location came as a surprise to many: a compound in the Pakistani city of Abbottabad, home to that nation's military academy and to several senior military officers. Most had imagined that bin Laden was hiding in the rugged territory of Northwest Pakistan, home to tribes that rejected the authority of the Pakistani government (and which believed that the territories should be considered part of Afghanistan). That area was the heart and refuge of the Taliban movement.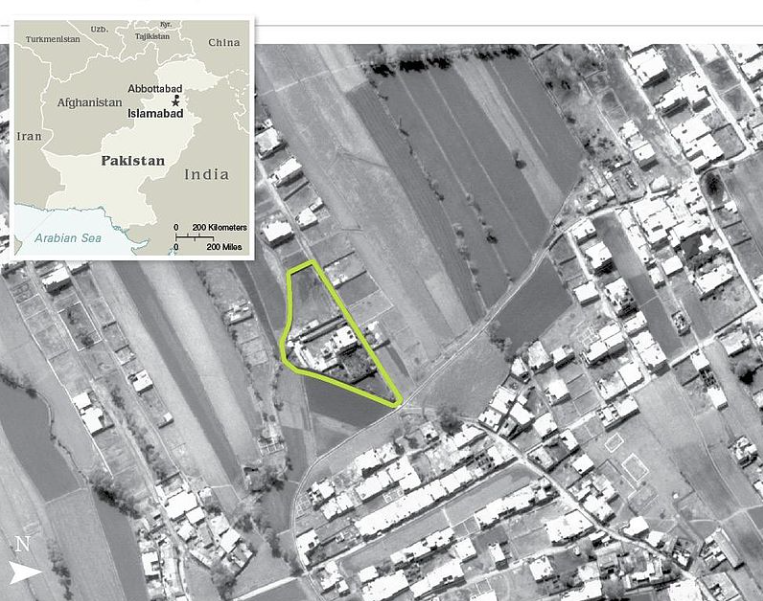 An overhead image of the bin Laden compound in Abbottabad, Pakistan.
It seems to have been assumed that bin Laden had particularly close ties to Mullah Omar, who was head of the Taliban government of Afghanistan before the 2001 attack, and who remains head of the Taliban fighting the current Afghan government. Mullah Omar had, after all, welcomed bin Laden and his al Qaeda, and had provided the base from which they plotted 9/11. Surely bin Laden was now enjoying his hospitality and the immunity the tribal areas offered from a Pakistani government working with the United States. Surely, too, the Pashtun tradition of hospitality was what kept anyone from claiming the $25 million reward offered.

We cannot know exactly how the U.S. government found bin Laden, nor, for that matter, how much Pakistan's government did or did not help. Even so, the episode has many aspects that seem to be worth thinking through. After the attack, Pakistan's leadership faced a dilemma. Osama bin Laden was a popular figure, and the government has found it very useful to tell its public that the United States is Pakistan's main problem. Cynics have pointed out that to admit that the Taliban in Pakistan are a much worse problem, given their record of terrorism against local opponents (and often merely perceived opponents), would be to open the question of how much support is given to the Taliban by the Pakistani army and even more by the Inter-Services Intelligence (ISI) organization. Answers might be very embarrassing.
Whether or not the Pakistani government helped us find bin Laden, it is infinitely better off domestically protesting the U.S. strike and its violation of Pakistani sovereignty. Official Pakistani reactions to U.S. strikes by unmanned aircraft have received similar condemnation. Yet Pakistan benefits from U.S. assistance, and its government is unlikely to want that to end.
Americans were outraged that bin Laden, the most wanted man on earth, could be living in a compound a few hundred yards from the Pakistani military academy. He did not go out, and local children were warned not to try to retrieve any soccer balls they accidentally sent over the compound fence. This begs the question of whether Pakistan's government knows who lives where in areas it claims to control. After the U.S. attack the Pakistanis said that they had spent their time searching the caves of the tribal areas, and that they had left the compound to sophisticated U.S. sensors. That probably grossly overrated what the sensors could do. If it is true it suggests that there are no-go areas for the Pakistani government in its own cities.
There is an alternative interpretation. Osama bin Laden may indeed have been a guest of the Pakistani government (as some bitter Americans allege), but not because he was particularly liked. In much of Asia, there is a long tradition of taking hostages. If the hostages are prominent, they are allowed to live well—but in captivity. In recent years, Pakistan has been wracked by Taliban violence. If indeed bin Laden had close ties to Mullah Omar, and if Mullah Omar really controls the Taliban inside Pakistan, the Pakistani hope may have been to use bin Laden as a way of pressuring Mullah Omar to obey orders.
According to one account, bin Laden's bodyguards had all been withdrawn a few days beforehand. If they were part of his hostage situation, the bodyguards may have been removed as a signal to him that patience was wearing thin, and that he had better rein in Mullah Omar. It may be naive to imagine that the Pakistanis did not help us find bin Laden (without our realizing it). They could have wanted him dead, but they did not want to be the killers.

The India Factor
Overall, the Pakistanis might feel that in creating the Taliban and in encouraging Muslim fundamentalism they created a tiger they now find increasingly difficult to ride. For Pakistan, India is the single greatest fact of life. Pakistan was created as a refuge for Muslims caught in a majority-Hindu India no longer governed by the British, who at least would protect one group against the other. The two nations find it nearly impossible to settle the greatest dispute between them, the status of Kashmir. When the two countries were created, Kashmir was a majority-Muslim kingdom with a Hindu ruler. That ruler decided that his country would become part of India. To Pakistanis, that was enough proof that they had been right to form a separate country, in which the Muslims would decide to be ruled by Muslims. It did not help that India's first prime minister, Jawaharlal Nehru, came from Kashmir and was therefore utterly unwilling to relinquish it.
Because Pakistan was created more as a refuge from the Indian government than as some kind of ethnic union, national unity has been difficult to nurture. There are two powerful separatist movements, one in Baluchistan (which wants to join its ethnic brethren across the Iranian border) and one in the north (Waziristan, most of whose inhabitants think it is part of Afghanistan). If either region broke away, Pakistan itself might break up into the remaining ethnic regions.
In the 1970s Pakistani dictator Zia ul-Haq apparently decided that the key to ensuring national unity was to empower fundamentalist Muslims. That made a kind of sense, because it offered a national identity. Fundamentalism also offered what the Pakistani government hoped would be leverage in Afghanistan in the wake of the defeat of the Soviet-sponsored government there.
In Afghanistan, the Pakistanis had two aims. One was to legitimize the border and thus end separatism in Waziristan (the tribal territories). The other was to provide a potential rear area, to be used to gain strategic depth in the event of a new India-Pakistan War. That was not fantasy; the Indians had already detached (in their view, liberated) East Pakistan in the 1970-71 war (it became Bangladesh).
A Difficult Ally
What all of this means to Americans is that it makes little sense to accuse the Pakistanis of duplicity in the bin Laden and other affairs involving terrorists and the Taliban. Too often we talk about allies as though they should simply obey us. Allies are friends, but they have distinctive interests that may have little to do with ours. For the Pakistanis, India rather than terrorists is the elephant in the room. The question they ask is which friend will do the most to help them when (not if) that elephant stirs and tries to squash them.

The United States has been both a good friend and, at other times, an enemy. Pakistan received considerable American aid in the 1950s, but then attention shifted to Southeast Asia. Large-scale aid resumed when the Soviets invaded Afghanistan in 1979, and it was the Pakistanis who backed the resistance fighters (and who thus came into close contact with Osama bin Laden).
However, to the Pakistanis the United States proved that it was not a true friend when it stopped aid because the Pakistanis were developing an atomic bomb to deter the Indians from using their own bomb against them. To Americans, this was a masterful attempt to prevent nuclear proliferation (we did not know that Pakistani physicist A. Q. Khan was busily selling his nuclear secrets), but to the Pakistanis it was blatant help to the Indians. No matter what we do, the Pakistanis know that we will favor the Indians, who are larger, richer, and offer more strategically.
Conversely, China offers Pakistan a good deal on a strategic level. Because China opposes India, the Pakistanis can be sure that the Chinese will keep supporting them, and providing any arms they can, including those we try to keep out of their hands. Our weapons are better, but in the past we have been quite happy to cut the Pakistanis off.
The Pakistanis probably learned a sad lesson of their own. Osama bin Laden was unable (possibly unwilling) to pass or enforce the desired message. Mullah Omar may not have cared. Had he not welcomed bin Laden in the first place, the Americans would have had no reason to attack his country in 2001 and to subject him to a thoroughly unpleasant war. Does he really have a reason to listen now? Or is he relieved that someone who caused him considerable pain is dead?
More generally, the attack on bin Laden highlights the character of the current war. In the past, an enemy leader had the capacity to order his forces to attack us, but he could also decide to surrender. Osama bin Laden certainly arranged for 9/11 to happen; he was paymaster. He was probably not really the planner, and it is a pity that Ayman al Zawahiri, the Egyptian who did plan 9/11, was not there when the SEALs assaulted the compound.
Although bin Laden undoubtedly helped inspire the current generation of jihadists, he seems not to have had the executive power exercised by a head of state. Jihad will doubtless continue, although we have gained enormously by seizing bin Laden's computers and their contents. The brightest ray of hope may be that other terrorist leaders and planners will see our success in destroying bin Laden as an indication that we now have the power to destroy them as well. That really may force them to spend more of their time protecting themselves and a lot less on planning to kill us.
Dr. Friedman is the author of The Naval Institute Guide to World Naval Weapon Systems, Fifth Edition, and Network-centric Warfare: How Navies Learned to Fight Smarter Through Three World Wars, available from the Naval Institute Press at www.usni.org.