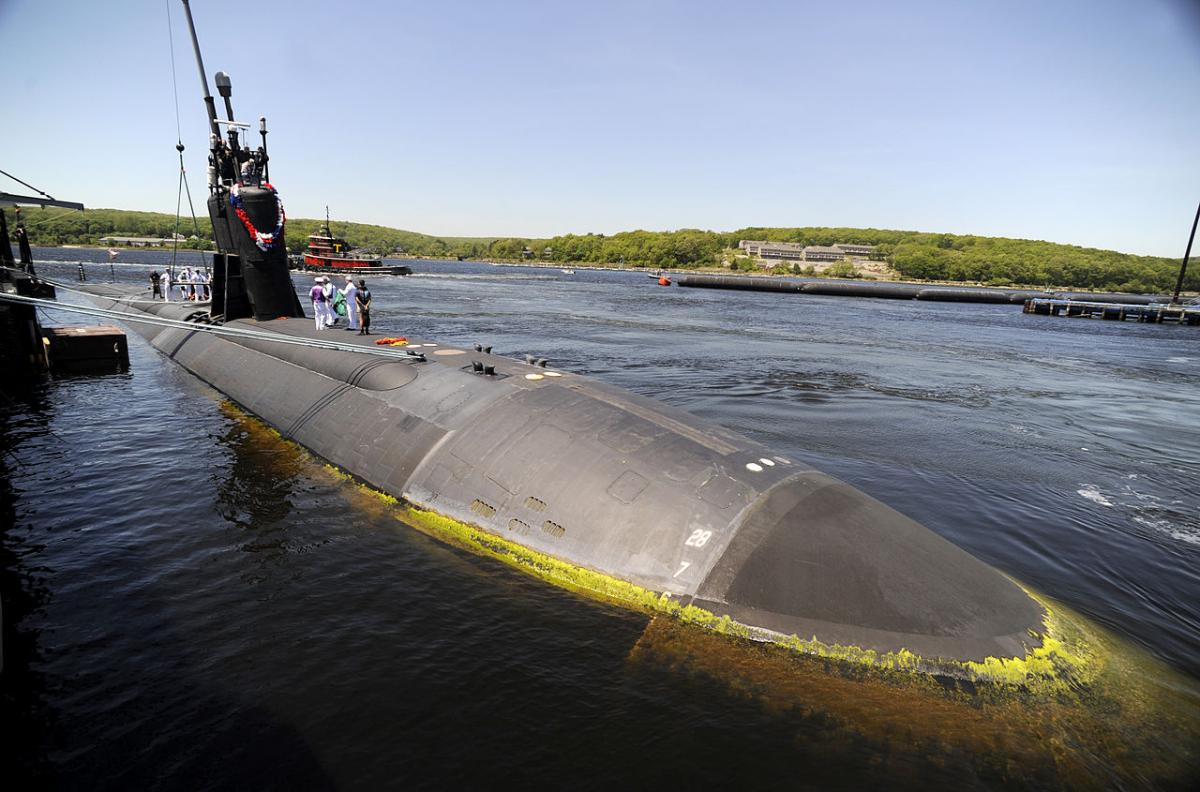 The USS Hartford returning to New London after a month-long surface transit from Bahrain. US Navy Photo credit John Narewski
It may not work every time, but empowering junior members of the crew to make decisions creates an atmosphere on board that could avert a catastrophe.
Submarine operations have always been inherently dangerous. Patrols in shallow, congested waters and in close proximity of competitor submarines and surface ships; constantly changing weather and acoustic conditions; high-pressure steam and other energetic systems; and a nuclear propulsion plant within the confines of an underwater tube make the submarine business a risky affair.
Risks have been mitigated over the years by a process that selects and trains some of the best people our nation has to offer. These men are team players who thrive on challenges. They are taught from their first day as submariners to be inquisitive, to adhere and truly understand procedures, and to seek continuous personal and team improvement.
The process and its people seem to work quite well. The submarine service stands as a model for safety and continuous improvement. In fact, the force has been used in benchmarking other hazardous types of work over the years. Its procedural adherence, integrated safety management, and conduct of operations philosophies have been used as models by government and industry alike.
No Monday-Morning Quarterbacking
Recently I was questioned about submarine safety and operations in the Persian Gulf that went something like "Should our submarines continue to operate in the shallow and crowded waters of the Persian Gulf after considering the March 2009 collision between the submarine USS Hartford (SSN-768) and the amphibious ship USS New Orleans (LPD-18) and the January 2007 collision between the submarine USS Newport News (SSN-750) and a Japanese merchant ship?" Without knowledge of the events that led up to these incidents, it would be inappropriate to
comment on the technical and behavioral aspects of each accident. To do so would not be helpful and only add to the second-guessing and Monday-morning quarterbacking that occurs after any untoward operational event. This second-guessing often does more harm than good, as it can blur the actual lessons learned and appropriate way ahead.
In answering the question, I took two distinct tacks. My first reply entailed submarine operations in general. I stated that for years our Navy has operated proficiently in the littorals. Extended operations in water depths well less than the length of the submarine with contact densities well over 50 vessels is commonplace and has not caused an increase in submarine incidents.
I then proceeded to take another tack that involved my experiences regarding safety in hazardous operating conditions inside and out of the Navy. My lessons may or may not have had a bearing on the two recent incidents, but I am willing to bet that had these been on the minds of personnel involved in the mishaps, things may have turned out differently. For that matter, they may prove helpful to all who command at sea.
I am convinced that accidents are more likely to occur when crew ownership of ship safety is insufficient. As a result, organizational factors, unsafe supervision, unsafe act preconditions, and finally unsafe acts can more readily align like holes in a block of Swiss cheese to create the necessary environment for a mishap or accident. Commanders can better insulate themselves from this alignment of holes by creating a proper shipboard environment of ownership. This environment is not created overnight but starts with the realization that safe operations are not about programs and regulations but about Sailors and their relationship with the command. Our leaders must seek to grow an environment of openness and candor.
Just as Vital as the Old Man
It is important that the junior member in the control room understand that he is as vital to the success of the ship as the Old Man. This very fact saved my ship, the USS Grayling (SSN-646), in 1983 on a windy and rainy day in Tangier Bay, Morocco, when the anchor chain broke and the ship moved rapidly to shoal water. I always bragged that my guys were well trained; in reality, what averted disaster is the fact that several young Sailors (one unqualified) felt empowered to speak up and take action early. As a result, propulsion was rapidly restored, and the ship left the Tangier Bay anchorage safely, but undermanned (two-thirds of the crew were on liberty).
Equally important is the understanding of classical risk management, which involves five steps: 
Identify hazards. 
Assess hazards. 
Make risk decisions.
Implement controls.
Supervise.
These steps are indeed helpful, but my personal belief is that the skipper needs to have a good personal understanding of his crew's state of training, readiness, and health at all times. This allows the commander to draw a "virtual risk" line that he may be willing to cross when his team is truly ready and the benefits of the action outweigh the costs. If the benefits don't outweigh the costs or the skipper's risk line indicates some team weaknesses, acceptance of unnecessary risk would be unwarranted, and as a result, more planning would be necessary to mitigate the risk.
Decisions' Impact
It is critical that all senior leaders, including our commanding officers, think through the results of policy changes. This analysis requires a long-range view. We don't do this well in the armed forces or in corporate America. The vital question is, "what impact could my decision today have tomorrow, next year, or perhaps five years out?" One good example is "rate consolidation" in the submarine force. The Navy combined the quartermaster, electronics technician, and interior communications ratings in the 1990s. Did this action strengthen or weaken navigation party performance over the next decade? I think the jury is still out on that decision.
A more recent example of failure to take the long view on safety involves my company, a nuclear environmental cleanup firm. In 2003, we sent out a memo that stated, "to make more efficient use of our talented 300-person union work force, all personnel will be allowed to qualify to operate our heavy equipment." After a rash of incidents involving fork lifts in 2006, I finally realized that we had too many "qualified" operators and reduced the operator pool to 32 top performers. There has not been a heavy-equipment incident since proper policies were instituted.
The U.S. submarine force is more than able to operate in the shallow, densely packed confines of the Persian Gulf. The nation can ill afford to have these critical men-of-war not operate in that area and other shallow seas around the globe. After all, our Navy is all about providing access.
On the other hand, our Navy needs to work to create shipboard atmospheres that provide for officers and crew to manage safety together; atmospheres where safety is no longer a priority but a value! When this occurs, "forceful backup" becomes a reality; intellectual dissent is viewed as an asset; and safety at sea is enhanced.
Vice Admiral Konetzni is currently serving in the Washington Division of URS as president of West Valley Environmental Services LLC. He retired from the Navy in 2004 after a distinguished career as a nuclear submariner and a leader in the submarine community.