"I intend to use Sea Power 21 and all its supporting tenets as a framework . . . to serve as the blueprint for our continuing transformation." 

—CNO Mike Mullen
Among the critical challenges the Department of the Navy faces today is finding and allocating resources needed to enable the transformation of our Navy into a 21st century force capable of providing our component of the nation's joint warfighting capability. 
Write an essay for this contest which addresses barriers to change and how to remove them, proposed mechanisms to incentivize Sea Enterprise activity that motivates meaningful change, and/or new opportunities for Sea Enterprise engagement at the corporate or activity level that will help make our Navy the right force, with the right readiness, at the right cost!
1st Prize: $15,000
$40,000 in total prize money
Learn more here.
Selected Submissions
Sea Wiki: How to Take the Navy's Culture of Innovation to New Depths
Lieutenant Commander Frederick M. Dini, Supply Corps, U.S. Navy
Retire the Twenty-Year System
Benjamin A. Atkins, CFA, FRM
Sea Enterprise: Get Underway on Manpower
Captain Kenneth M. Perry, U.S. Navy
It's the Network: The Navy Needs to Leverage the Reserve Component to Achieve Sea Enterprise Goals
Ensign Tim Graczewski, U.S. Naval Reserve
Naval Entrepreneurship: The Critical Link in the Sea Enterprise Anchor Chain
Lieutenant Commander Richard E. LeBron, U.S. Navy
Center for Navy Business Excellence: A 21st Century Solution to Eliminate the Sea Enterprise Strategy-Execution Gap
Lietenant Commander Gordon E. Meek III, Civil Engineer Corps, U.S. Navy
USN, Inc.: Charting Realistic Boundaries of the Sea Enterprise's Quest for Corporate Efficiency
Lieutenant Eric A. Nicholson, U.S. Navy
Toward and Aadaptive Naval Doctrine
Lieutenant Rich B. Kaczmarek, Civil Engineer Corps, U.S. Naval Reserve, and Dr Adam Lowther
Sponsored by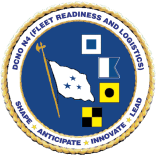 Vice Admiral Justin D. McCarthy, U.S. Navy, DCNO for Fleet Readiness and Logistics (N4)