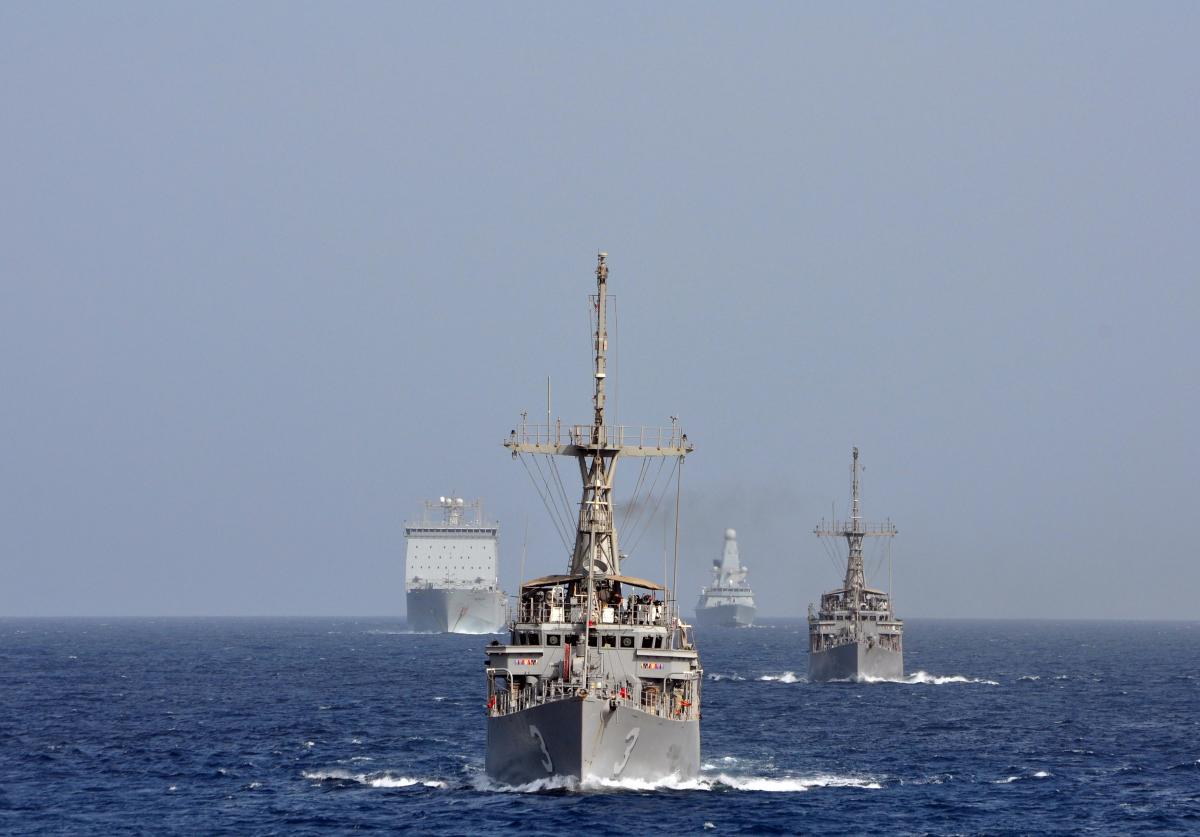 U.S. Avenger class minesweepers on manvuers with Royal Navy ships on Sept. 20. U.S. Navy Photo

We are sailing now toward the at-sea maneuvers where we will conduct a number of at mine counter measure evolution involving aircraft and surface ships and under sea forces, divers unmanned and under water vehicles.
Q: What is the make up of the at-sea assets?
A: We organized into three task groups, one each in the Arabian Gulf, the Gulf of Oman and the Gulf of Aden. It's significant not only in an international scope but a geographic scope those three regions span over a 1,000 nautical miles roughly comparable to having a group in an area like the western approach to the English Channel and the Strait of Gibraltar.
We've got over 20 ships and vessels. We have several large surface platforms. One is the USS Ponce , the afloat forward staging base interim. It's been configured and modernized over the last year for the purpose of supporting mine counter measure operations and other missions. She was deployed from Norfolk to the Fifth Fleet theater, arriving this summer… Ponce can operate the [MH-53] Sea Dragon helicopters it can support the Avenger class mine sweepers.
We also have the Royal Fleet Auxiliary Cardigan Bay . It's a UK ship… And then our third task group in the Gulf of Aden is centered on the USS Gunston Hall .
Each of those ships has the flexibility, the volume and capability to support the MCM force.
We have six of the U.S. minesweepers participating that's as planned. It's ships that are deployed here from Bahrain and ships that have been deployed here from San Diego.
Q: What is the size of the exercise?
A: This is the largest MCM international exercise we've ever conducted or ever participated in…
No one can recall a MCM with this international scope or participation…
Countries can agree on freedom of navigation. Countries can agree mines are bad and that we need to have an effective mine clearing capability. I'm not going to deploy mine clearing forces unless someone puts mines in the water. So it's a defensive exercise. So we emphasize that.
Q: How is the U.S. MCM Fleet doing now?
A: There has been an increased level of attention to this mission area. The leadership attention to this mission area is significant, a real jump from where we have been… Admiral [Jonathan] Greenert is well aware of the mine counter measure forces and he is certainly well aware of this exercise.
Frankly, the readiness of most mine warfare forces was [unsatisfactory] and those forces were under resourced and the Navy recognized that and they allocated resources…
Today all the U.S. mine sweepers that were planned to participate in this exercise are ready. Several have already sailed as planned on schedule to participate in one of the three task groups one
Q: How much does Iran factor into the timing of this exercise?
A: This is exercise is about mines and freedom of navigation it's not about Iran or any specific country.