The Jeannette had been officially commissioned a U.S. Navy vessel on June 28. The ship carried a crew of 32, of who five men, including DeLong, a 1865 U.S. Naval Academy graduate, were attached to the U.S. Navy. DeLong had Arctic experience, having participated in the search for survivors of explorer Charles Francis Hall's [4] failed 1872 Polaris expedition. The popular press frequently emphasized that the Jeannette effort was in fact a U.S. Navy enterprise "…a national work [that] will extend the geographical survey and topographical knowledge of the northern boundary in the interests of commerce and navigation."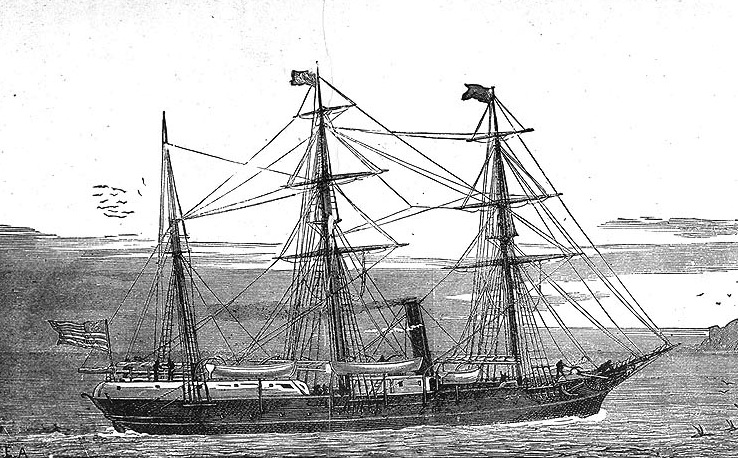 USS Jeanette in 1879 leaving from San Francisco
Naval Historical Center
On June 12, 1881, a little less than two years after leaving San Francisco, the Jeannette was crushed by ice and abandoned in the vicinity of the New Siberian Islands north of Russia, her mission unaccomplished. She sank the following day.

View USS Jeanette [5] in a larger map
Survivors ultimately reached the Russian mainland but DeLong was not among them.
Originally buried in Siberia, DeLong and six shipmates were disinterred under Navy auspices, transported with military honors thousands of miles across Russia, Europe and the Atlantic and buried in Feb. 1885 in Woodlawn Cemetery in the Bronx, New York. An elaborate monument, "the Jeannette Memorial," is located in the cemetery of the U.S. Naval Academy and carries the names of DeLong and those other shipmates who did not survive the expedition.

U.S. Naval Institute